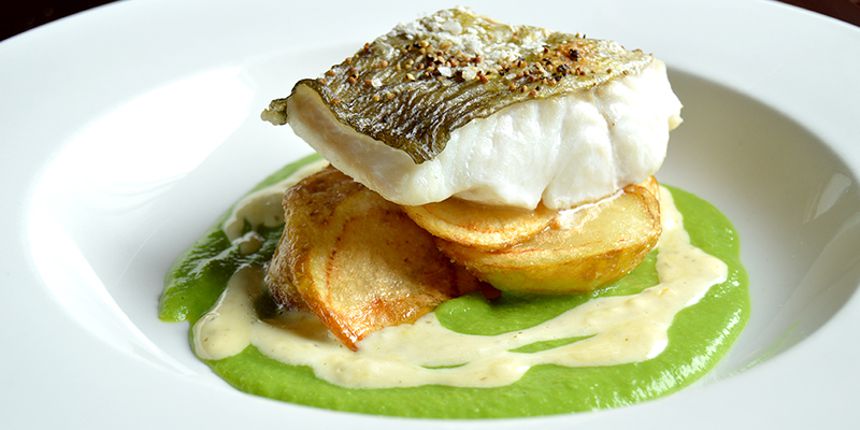 TO NIBBLE
Plate of anchovies
£4.25
Bowl of olives
£4.25
Whitebait
with tartar sauce
£4.50
Extra bowl of bread
£2.50
---
TO START
Charcuterie plate
smoked chicken breast, smoked venison, speck and Scotch beef bresaola along with a chicken liver pate crostini. Served with caramelised red onion chutney and pickled vegetables
£11.25
River House fish stew
mussels, king prawns, crab, clams and queenie scallops tossed in a tomato-based sauce topped with sea bream served with chunky bread and aioli
Starter £14.25  |  Main £23.95
Pan seared Shetland scallops
served in their shell with borlotti beans tossed in a tomato and basil sauce, topped with crispy pancetta
£11.95
Pan seared mackerel fillet
served on chargrilled sour dough bread with roasted heritage tomatoes, rocket and garlic aioli
£7.95
Cullen Skink
traditional creamy, smoked haddock, leek and potato soup
£4.60
Smoked salmon from South Uist
served with capers, watercress and a horseradish mayonnaise along with baby blinis
£8.95
---
OYSTERS MENU
Our oysters are Pacific oysters and sourced solely from around the coast of Scotland. They are served on sea salt, accompanied by a choice of sauces:
~ Caviar and lemon ~
~ Shallot and red onion with red wine vinegar ~
~ Champagne vinegar ~
~ Wasabi ~
~ Chilli, lime and Isle of Harris Gin ~
3 …£7.20     |     6…£14.40     |     12…£26.80
Grey Goose Oyster Shot
Single oyster served in a shot glass with Grey Goose Vodka, tomato juice and Tabasco
£4.60
Pickle Back
Shot of Tomatin Malt followed by an oyster and finally a gherkin … it's fun !
£5.75
Pearl of the Sea Martini
Harris Gin, Martini, samphire and an oyster
£7.95
Black Velvet
½ pint of Cromarty Stout and Cava – a great accompaniment to oysters
£5.50
Our oyster hour
Every Friday 5:30pm – 6:30pm  |  £1.00 a shuck (click for details)
---
MUSSELS MENU
Steamed Isle of Lewis mussels cooked in one of four styles, served with our chunky bread
~ Mariniere ~
white wine, garlic, shallots and cream
~ Fennel and vermouth ~
~ Islay ~
cream and a good splash of Islay Malt
~ Rogue Wave IPA, cabbage and bacon ~
£9.25 as a starter  |  £16.95 as a main
Add a portion of french fries for £3.95
---
TO FOLLOW
Steamed Shetland halibut
pak choi and green beans with a parsnip puree, pancetta and a red wine reduction
£24.95
Pan seared fillet of West Country wild sea bass
with wilted spinach, sauteed potatoes, chestnut mushrooms, steamed cod cheeks, clams and a fish stock
£22.50
Chargrilled 28 day matured Scottish rib eye steak
with buttered green beans, hand cut chips and bearnaise sauce
£23.95
Grilled Pentland Firth cod
with dauphinoise potatoes, shellfish bisque and samphire
£21.25
Tournedos Rossini
prime Scotch fillet of beef served on a crispy crouton with french beans, topped with mushroom pate and finished with a rich red wine jus. Served with tiny diced herbie potatoes
£27.25
Seafood linguine
king prawns, mussels and scallops tossed in a garlic and chilli olive oil with heritage tomatoes and spinach topped with west country wild sea bass and west coast langoustine
£22.50
Grilled fillet of Scrabster hake
served on a celeriac mash and savoy cabbage with a cockle and caper butter sauce
£19.75
The Catch
please see large blackboard for daily catch.
Should you have any food allergies or intolerances please do not hesitate in informing us of this.
---
TO FINISH
Affogato
vanilla ice cream with a single espresso and a shot of Vecchia Romagna
Nutella cheesecake
served with whipped mascarpone and crushed hazelnuts
Lemon tart
with a passion fruit coulis, whipped mascarpone and white chocolate shards
My better half's pavlova
with poached comice pear, whipped cream and warm salted caramel sauce
All desserts £6.95
Chef's Roast Coffee
exclusively blended, roasted and ground for us by Inverness Coffee Roasting Company
£2.50
Liqueur Coffee
£6.75
---
RIVER HOUSE CHEESE SLATE
Cornish Brie, Strathdon Blue, Orkney Smoked, Gaboc, Crowdie and Orkney Cheddar
accompanied by walnuts, grapes, honey and Caithness oatcakes
For one £8.95  |  For two £15.50
---
DESSERT WINES
Tokaji Late Harvest (Hungary)
This is honey in a glass
Pedro Ximenez (Spain)
Dark and rich, great with chocolate – or on its own!

£7.65  (50ml glass)
---
PORT
Delaforce LBV
Delaforce 10 year old Tawny Port
£5.40 (50ml glass)
---
DESSERT COCKTAILS
No room for a pudding? Then try one of these:
SPRITZ
Not just a drink, its a way of life .. so the Venetians say!
Negroni
Campari, gin and martini rosso served over ice with an orange slice
Americano
sweet vermouth, campari and soda water served over ice with an orange slice
Aperol
Aperol, prosecco and soda served over ice with an orange slice
Pimms No1 cup
Pimms and lemonade over ice with mint and fruit
All Spritz cocktails £7.25

PROSECCO COCKTAILS
Frosted drunken berry prosecco
raspberry puree, gin and prosecco served in a frosted glass topped with a fresh raspberry
Tintoretto
pomegranate juice and prosecco
Peach Bellini
peach juice with prosecco
Kir Royal
crème de cassis and prosecco
Pear Bellini
pear juice and prosecco
All prosecco cocktails£7.95 each
Or if a cocktail is not for you, try a bottle of:
Brewed Awakening 7%
Artisan coffee-infused stout from the Cromarty Brewery
£4.75 (500 ml)