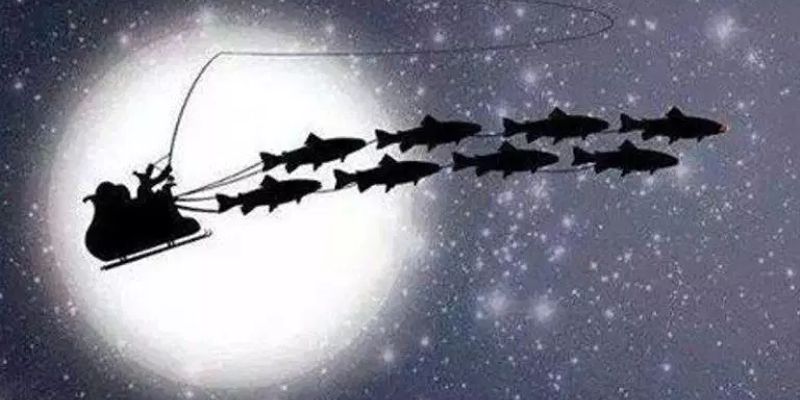 WE FISH YOU A MERRY CHRISTMAS!
Our pre-Christmas menu is available from Tuesday 3 December through to Monday 23 December and is only available to parties of 8 or more that have pre-booked.
A deposit of £10.00 per person is required.  Final numbers are required before 12 noon the day before the booking.
Any drop in numbers after this and before arrival must be informed and the persons deposit will be used as cover charge, however any further reduction in numbers upon arrival will be charged at full price.
Example – final numbers confirmed as ten with no call-offs but only 8 arrivals will be charged at ten full price.
Advanced orders are required for parties of 8 and more on the Festive Menu (not Cicchetti Menu).
Orders can be phoned in 01463 222033 or email chef@riverhouseinverness.co.uk.
Festive period opening hours:
Please note our cicchetti and full menu are also available throughout December.
Don't forget we also have gift vouchers –  the perfect present!!
Merry Christmas and a Happy New Year
From Alfie, Laura and all the crew x
---

Festive Cicchetti Menu
Served 3pm – 5:30pm  |  £21pp – add a glass of Prosecco on arrival £26pp
Cicchetti is traditionally a selection of snacks and small plates served in a "bacari" in Venice.
Today cicchetti is served throughout Italy and beyond. An Italian take on tapas.
The food is simple and humble, created to share for a sociable time perfect for a get together!
First Wave
Bruschetta platter of:
Goats cheese, walnuts and grapes
Orkney crab with capers and tomato
 Smoked mackerel whipped with crème fraiche and horseradish
Parma ham and king prawn with runny honey and chilli
Second Wave
Wild mushroom and leek tagliatelle
Penne arrabiata with crumbled meatballs rocket and parmesan shavings
Linguine tossed in a smoked salmon and dill cream sauce, finished with cucumber laces
Third Wave
Tuscan beef stew
River House fish stew
Turkey milanese
Mini roast potatoes .. sweet potato chips .. chunky chips with parmesan and truffle oil
---

Festive Menu
Served any time | £29.50 per person
To Start
Steamed Shetland mussels
tossed in a spicy tomato sauce with crispy kale
Bruschetta
Orkney crab, tomato, capers and micro herb drizzled with a lemon infused extra virgin olive oil
Purple figs,Parma ham, burrata, rocket, mint and pine nuts
with an aged balsamic reduction
Cullen skink
To Follow
Grilled fillet of sea bream
puy lentils with a pea and chorizo fricassee
Pan roasted Pentland Firth cod
with roasted potatoes, Brussels sprouts, chestnuts,crispy bacon and a sage butter
Roast breast of turkey
bubble 'n' squeak, haggis, crispy bacon and a rich bordelaise sauce
Tuscan beef stew
with celeriac mash and dressed rocket
Wild mushroom and leek tagliatelle
To Finish
Nutella cheesecake
whipped mascarpone, chopped nuts
Panatoni bread 'n' butter pudding
vanilla ice cream
My better half's pavlova
with whipped cream and winter berries
Trio of cheeses
Dunsyre Blue, Highland Brie and Orkney Cheddar with Caithness oatcakes, honey and walnuts