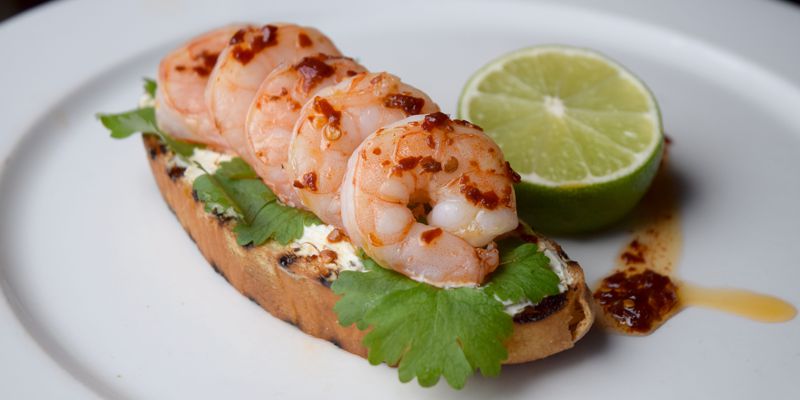 Served
Tuesday to Saturday 3:00pm – 5:30pm
---
CICCHETTI
Cicchetti, is traditionally a selection of snacks and small plates served in a "Bacari" in Venice.
Today cicchetti is served throughout Italy and beyond. An Italian take on tapas.
The food is simple and humble, created to share for a sociable time.
We suggest two or three dishes to share … to start with anyway!
Cin Cin … Alfie …x
---
San Marco
A perfect aperitif
two spritz or prosecco cocktail and a bowl of olives and olive grissini
£19.50
---
Stuzzichini
Plate of anchovies
£4.25
Bowl of olives
£4.25
Bowl of bread
with extra virgin olive oil and balsamic
£2.50
Crispy mozzarella sticks
with sweet chilli dip
£4.50
---
Bruschetta
Orkney crab, king prawns and crispy apple
King prawn and speck
with rocket, chilli flakes and runny honey
Salmon pâté
with cucumber, caper and rocket salad
Parma ham and gorgonzola
Heritage tomato and oregano
Goats cheese
with a grape, walnut and rocket salad
All £7.25
Bruschetta plate
(combination of any three)
£16.75
---
Pesce
Grilled fillet of Sea bream
served on chorizo, squid and cannellini beans tossed in a rich tomato and rioja sauce.  Finished with paprika extra virgin olive oil
£10.50
Fritto misto
crispy battered pieces of fish served with aioli and a wedge of lemon
£10.25
River House fish stew
mussels, king prawns, crab, clams and queenie scallops tossed in a tomato based sauce topped with sea bream served with chunky bread and aioli
£10.50
Pan seared Shetland scallops
served in their shell with a garden pea puree and crispy pancetta
£10.95
Garlic and chilli king prawn
with Mediterranean cous cous
£9.00
Salmon gravadlax
with watercress
£8.50
---
Pasta
Seafood risotto
crab, prawns, mussels and squid tossed in a vine tomato and basil risotto, finished with rocket and parmesan
£9.25
Penne
tossed with king prawns and courgette in a garlic and lemon butter
£7.95
Linguine
tossed in a smoked salmon and dill cream sauce, finished with cucumber laces
£7.95
Arancini
wild mushroom risotto balls deep fried and served with a parmesan cream sauce
£6.25
Fusilli
tossed with fresh tomatoes and anchovies
£6.25
Nduja arancini
risotto rice with spicy tomato served with rocket, parmesan shavings and drizzled with garlic and chilli oil
£6.25
---
Carne
8oz Scottish Rump steak
with rocket, red onion and sun-dried tomato salad
£11.50
Scotch beef meatballs
cooked in a tomato sauce
£6.50
---
Lati e Insalate
Sweet potato chips
with sour cream
£4.50
Chunky chips
with parmesan and truffle oil
£4.50
Salad of sun dried tomato, mozzarella pearls, red onion and rocket
with an oregano dressing and aged balsamic reduction.
£5.95
Tiny roasted herbie potatoes
£4.50
Chargrilled vegetables
with rocket and drizzled with basil oil
£5.25
---
OYSTERS MENU
Our oysters are sourced solely from around the Scottish coastline.
They are served on sea salt, accompanied by a sauce of your choice
(additional sauce £1.50 each)
** caviar and lemon **
** champagne vinegar **
** shallot and red onion with a red wine vinegar **
** wasabi **
** chilli, lime and Isle of Harris Gin **
3 .. £7.20 6 ..£14.40 12 ..£26.80
Grey Goose Oyster Shot
Single oyster served in a shot glass with Grey Goose Vodka, tomato juice and tabasco
£4.90
Pickle Back
Shot of Tomatin Malt followed by an oyster and finally a gherkin … it's fun!
£5.75
Pearl of the Sea Martini
Harris Gin, Martini, samphire and an oyster
£7.95
Black Velvet
½ pint of Cromarty Stout and prosecco – a great accompaniment to oysters
£5.50
Our oyster hour
NOW EXTENDED! Every Friday 4:30pm – 6:30pm  |  £1.00 a shuck (click for details)
---
MUSSELS MENU
Steamed Isle of Lewis mussels cooked in one of four styles and served with chunky bread
** Mariniere – white wine, garlic, shallots and cream **
** Thai – sweet chilli, coconut, lemongrass and cream **
** Islay – cream and a good splash of Islay Malt **
** Venetian – tomato, basil and saffron **
£9.75 as a starter or £16.95 as a main
Add a portion of french fries £4.50