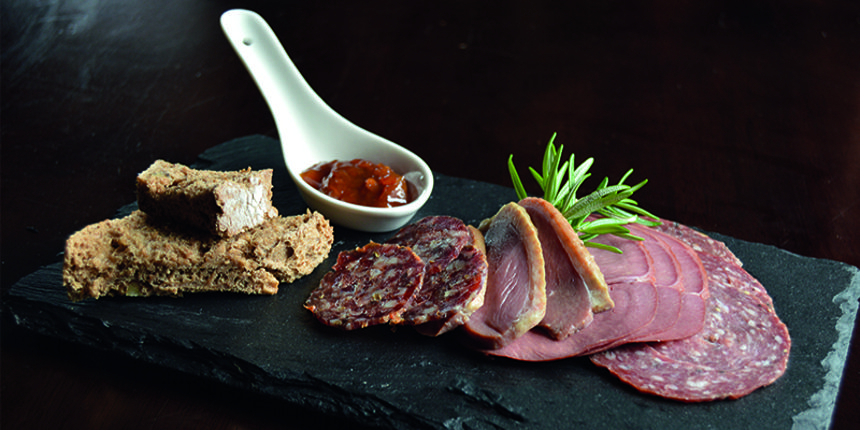 Served
Tuesday to Saturday 3:00pm – 5:30pm
---
CICCHETTI
Cicchetti is a Venetian term for snack or small plate. We would suggest two or three dishes to share – to start with!
 To Nibble
Plate of anchovies in olive oil
£4.25
Bowl of olives
£4.25
Whitebait
with garlic mayonnaise
£4.50
Bowl of chunky bread
with oil and vinegar
£2.50
---
Bruschetta
Crab and crayfish bruschetta
with bottarga mayonnaise and fresh lime
£7.95
Smoked salmon pâté from South Uist
with cucumber ribbons and capers
£7.95
Cream cheese, parma ham and sun-dried tomato
£6.95
Goats cheese and red onion
£6.95
---
Fish
Citrus cured salmon gravadlax
served with orange, beetroot and rocket
£7.95
Orkney crab cake
Thai style served with a chilli jam
£7.25
Grilled Wester Ross salmon
with a parmesan and dill crust
£9.50
Queenie scallops
tossed with garden peas and pancetta
£9.90
Garlic and chilli king prawns
with Moroccan couscous
£9.25
Fritto Misto
lightly fried, crispy seafood served with a garlic mayonnaise
£10.25
Grilled sea bream
with sautéed tomatoes, olives and courgette
£10.75
---
Meat
Chicken milanese
with rocket and parmesan
£9.75
Polpette
Scottish beef meatballs tossed in a tomato and basil sauce, served on chargrilled sour dough bread topped with pecorino and rocket
£7.50
Scottish rump steak
with rocket, parmesan and salsa verde
£11.50
---
Salad
Caprese salad
£5.95
Rocket and parmesan salad
with extra virgin olive oil and aged balsamic reduction
£5.95
Panzanella salad
£5.95
---
Veg
Steamed summer vegetables
with manchego
£5.50
Chunky chips
with aioli
£4.50
Sweet potato chips
with a sour cream dip
£4.50
---
OYSTERS MENU
Our oysters are Pacific oysters and sourced solely from around the coast of Scotland.
They are served on sea salt, accompanied by a choice of sauces:
~ Shallot and red onion with red wine vinegar ~
~ Caviar and lemon ~
~ Wasabi ~
~ Chili, lime and Rock Rose Ginette ~
3 …£7.20     |     6…£14.40    |     12…£26.80
Grey Goose oyster shot | £4.60
Single oyster served in a shot glass with Grey Goose Vodka, tomato juice and Tabasco
Pickle Back | £5.95
Shot of Talisker Malt followed by an oyster and finally a gherkin – it's fun!
Pearl of the Sea Martini | £7.95
Harris Gin, Martini, samphire and an oyster
Black Velvet | £5.50
Half pint of Cromarty Stout and Cava – a great accompaniment to oysters
Our Oyster Hour
Every Friday 5:30pm – 6:30pm
Oysters £1.00 a shuck
---
MUSSELS MENU
Steamed Isle of Lewis mussels cooked in one of four styles, served with our chunky bread
~ Mariniere ~
white wine, garlic, shallots and cream
~ Perry ~
pear cider, cream and sliced pears
~ Islay ~
cream and a good splash of Islay Malt
~ Thai ~
sweet chilli, lemongrass, coconut and cream
£9.25 as a starter  |  £16.95 as a main
Add a portion of french fries for £3.95