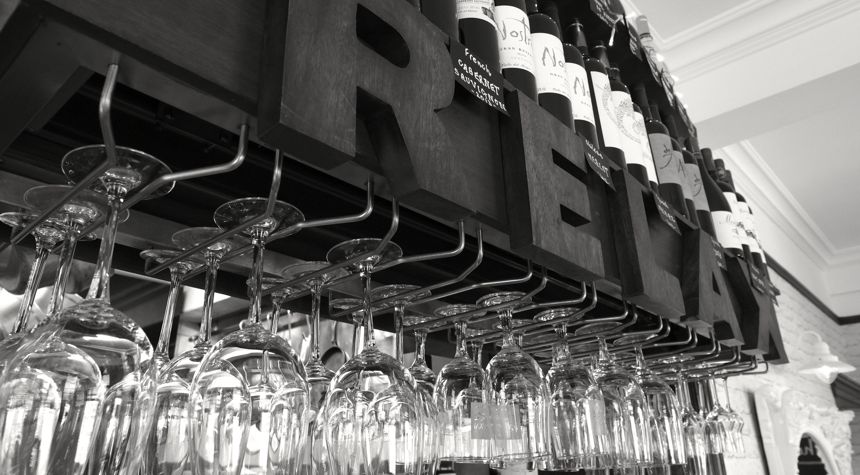 At the River House we believe in using the very best in seasonal Scottish produce, which means showcasing what we think to be the best drink for the menu, wine.
The selection has been chosen to feature the best wines for the job, with a large selection of wines by the glass, with a particular focus on seafood-friendly wines: such as Cava,Sherry and, of course, light fresh aromatic whites.
This wine list is an ever-changing collection that will evolve with the seasons and with the menus. With this in mind, please look out for our blackboard wines, which have been sourced from limited parcels and small producers.
The crew are here to help you discover new favourites. If you fancy trying something new please don't hesitate to ask for our advice. Or you can trust in our dedicated research and take a punt, as we love it all.
---
SPARKLING WINES
CAVA
Bodegas Sumarroca, Catalunya
Why Cava? It's brilliant with shellfish and seafood, and we think it does as good a job as Champagne at much better price. Bodegas Sumarroca make excellent Cava, generations of the Sumarroca family have devoted themselves to making it so. Their wines have bags of personality and character. Carlos Sumarroca, the owner, is one of Spain's most important and awarded agriculturists. They practice sustainable farming, harvest at night and only use only free-run juice. Their winery is terraced along the hillside so that all movement of wine is gravity fed. All very technical, but it shows in the quality.
Brut Nature, Gran Reserva, 2013 
Fresh, complex aromas that mix with brioche pastry notes. Lively on the palate, with very fine bubbles that perfectly complement the wine's complexity. An elegant, serious finish, long and dry, bringing out the essential flavour of the cava. Brut Nature is the driest expression of Cava.
Glass £6.95  |  Bottle £27.95
Brut Nature Rosé, Gran Reserva, 2013
An attractive bright pink colour. Inviting aromas of red fruit and strawberries combing with a delicate floral note. Soft and juicy fruit flavours, nice soft bubbles and a delicate finish.
Glass £6.95  |  Bottle £27.95
Nuria Claverol, Gran Reserva, 2011
Sumarroca's top wine Nuria is a special bottle that is unique to the winery. Intense aromas with strong mineral and toasted notes, give this wine a highly individual character. Full favoured with the right level of complexity; from a highly fruity start to an intriguing fresh and minerally finish.
Bottle £46.00
PROSECCO
Giavi Prosecco DOCG, Superiore, Extra Dry, 2017
There are currently only a handful of producers that have achieved DOCG status in the whole of Italy and Giavi are proud to be one of them. Up on the hills overlooking the town of Conegliano, Giavi carefully handpick each grape to ensure the highest quality possible, the resulting wine is high, full of purity and freshness of fruit, making this a very much boutique wine. A lovely touch of pear, apple and melon in the aroma, crisp and clean with lovely acidity and a refreshing off-dry finish. If you love Prosecco then why not have the best!!
Glass £7.50  |  Bottle £32.00
---
WHITES
Ai Galera, Mistico, Portugal, 2017
Portugal is definitely one of the places to head for when looking for great wines. We have brought this wine all the way to Inverness from the Tejo region south of Lisbon. It has plenty of tropical fruit flavours and is citrus fresh. Perfect as an aperitif or to enjoy with your meal.
Glass £5.30  |  Bottle £20.00
Bianco, Biologico, Altopiano, Italy, 2017
100% Trebbiano from the rolling hills of Terre di Chieti in Abbruzzo. Delicate and fruity with a hint of flora makes this a great partner with seafood.
Bottle £22.50
Viognier, Mont Rocher, Vieilles Vignes, France, 2017
A haunting honeysuckle and apricot aroma. Rich, almost unctuous palate that is somehow still dry, tangy and refreshing.
Glass £5.80  |  Bottle £23.50
Grenache Blanc, IGP Pays d'Oc, Felicette, France, 2017
A proper hidden gem of Southern France – fresh, well balanced, minerally, exotic. All in one. And the name Felicette? It was the first ever cat in space. Want to see – check the label!
Glass £6.00  |  Bottle £24.00
Blanco, Finca Manzanos, Bodegas Manzanos ,Spain, 2017
Most of us think of red when it comes to Rioja. The fact is that the Riojans know how to make both! This is an unoaked example with ripe, but subtle fruit, good balance. Delicious.
Bottle £25.00
Chenin Blanc, Bonfire Hills, Extreme Vineyards, South Africa, 2017
A very intriguing Blend: The aromas introduce a palate altogether more complex, with rich, more-ish, juicy stone fruit and crunchy acidity.
Bottle £26.50
Pinot Gris, Stoney Range, Sherwood Estate, New Zealand, 2017
The palate is light bodied, smooth, very refreshing with a lingering sweet finish. Extended lees contact gives this wine aromatic spice, flavours of poached pear and honeysuckle on the finish.
Bottle £28.50
Sauvignon Blanc, Mayfly, New Zealand, 2017
Exquisite Sauvignon Blanc from one of the best Marlborough vineyards. Asparagus, white peach, elderflower…all that you expect.
Glass £7.50  |  Bottle £29.00
Picpoul de Pinet, Cuvée Caroline, Famille Morin, France, 2017
People call it a "designer Muscadet" reflecting the heritage of one of the classic seafood wines. This one comes from Languedoc, south of France.
Bottle £29.00
Albariño, Lembranzas, Spain, 2017
And the seafood theme continues to Galicia, which is the home of Albarino. Delicate nose, exotic flowers, fresh acidity makes it a perfect accompaniment to most fish and shellfish.
Glass £7.60  |  Bottle £30.00
Cotes du Rhone Blanc, Guillaume Gonnet, "Le Reveur", France, 2017
The energetic and charismatic Guillaume Gonnet is not your average Rhône winemaker. Extremely open in his attitude, his curious, boundary challenging approach extends beyond wine. A highly expressive blend of Viognier, Grenache Blanc and Rousanne grapes bursting with grapefruit, apricot, peach, citrus and floral flavours
Bottle £32.00
Riesling, Zephyr, New Zealand, 2018
Not only does the Marlborough region produce great Sauvignon Blanc, Riesling is also perfectly matched to this region. A stunning and vibrant wine with aromas of ginger, green apple and a mouthwatering citrus lime. A perfect partner for seafood and salads.
Bottle £35.00
Blanc De Noir, Elpenor, Julia Kemper, Portugal, 2017
Julia has kept alive her family's 400 year old historic vineyard estate and is now considered to be one of the top wineries in Portugal. This organic blanc de noir wine vinified from Touriga Nacional grapes has very elegant and exquisite aromas, with smooth notes of peaches together with violet and lychee. Velvety and fresh minerality with lots of character.
Bottle £38.00
Sancerre Blanc, Domaine Picard, France, 2016
Another world classic from the Loire Valley. This comes from a small family producer. The nose is bright but gentle with hints of orange blossom. This is backed up by a robust body and structure.
Bottle £42.00
Charlène et Laurent Pinson, Chablis, Domaine Pinson, France, 2015
The Pinson Family are one of the longest established families in Chablis with records showing them as having been in Chablis since 1640. Charlène et Laurent Pinson practice 'lutte raisonnée', limiting the use of pesticides, turning over the soil and limiting yields to produce exceptional quality fruit. From this there is just a natural step to create one of the most memorable wines you will probably drink.
Bottle £45.00
---
ROSÉ
Edalo, Bodegas Contreras Ruiz, Condado de Huelva, Spain, 2016
Vibrant Ruby colour, red berries on the nose with hints of spice. Surprisingly weighty and fleshy and well-structured despite its youth with excellent balance between freshness and persistence.
Glass £5.95  |  Bottle £24.95
---
REDS
Nero d'Avola, Palazzo del Mare, Sicily, 2017
Bags of ripe, plummy fruit, hints of spice and liquorice, red and cherry fruits, this wine is deliciously supple and juicy. The perfect partner for a variety of dishes.
Glass £5.30  |  Bottle £20.00
Pinot Noir, Calusari, Viile Timisului, Romania, 2017
Not easy to find good value Pinot Noirs these days! This one comes from an old vineyard in Romanian mountains and offers all that you might be looking for – strawberry and cherry fruit, a bit of spiciness with elegant finish. Seafood friendly.
Glass £5.75  |  Bottle £22.50
Cabernet Sauvignon, IGP Pays d'Oc, Casse Noix, France, 2015
Black cherry, cassis and spice like pepper and cinnamon, cedar – this is a lovely example of Cabernet from the South of France. Not as full on as some of its Bordeaux counterparts.
Bottle £24.00
Tempranillo, Finca Manzanos, Bodegas Manzanos, Spain, 2016
Rioja as it should be – very much medium bodied with wild berry fruit, a bit of spice from oak. There is a reason why this is one of the most popular red wine styles.
Glass £6.95  |  Bottle £27.50
Malbec, Man Meets Mountain, Mendoza, Argentina, 2017
This is the "big boy" – the full on, rich, spicy, fruity wine from the beautiful slopes from under the Andes. Most structured and full wine on our list – great with steak.
Glass £7.50  |  Bottle £28.50
Chateau Vessiere Rouge, Costières de Nîmes, France, 2015
In the heart of the Costières de Nîmes region, at the southern extremity of the Rhône valley, this family run vineyard has produced this fine, elegant and organic wine from grenache and syrah grapes. Sweet black fruits of mulberry, black cherry and blueberry with a hint of cardamom spice.
bottle £32.00
Pinot Noir, Zephyr Wines, Marlborough, New Zealand
Pure elegance in the bottle. If you are a red Burgundy lover, you will enjoy this wine. It comes from the cool vineyards of Marlborough. Pinot with light colour but intense flavours!
Bottle £36.00
Symphonia, Quintas, Kings Valley, Victoria, Australia, 2015
This wine is a rich and powerfully structured blend of Saperavi, Tannat, Syrah and Tempranillo, crafted to respect the individual characters of each variety and to capture their harmony when in concert. The palate is not only powerful, it oozes elegance, with fine, persistent tannins, a vibrant black fruit spectrum and notes of dark liquorice. Unbelievably velvety and robust, this wine is the ultimate winter warmer!!!
Bottle £42.00
---
DESSERT
Pedro Ximenez, Spain 2015
Dark and rich, great with chocolate.
Glass £8.25
Mád, Tokaji (37.5cl.), St Tamas, Hungary, 2014
Vivid and lively late harvest wine, the natural sugar concentration is balanced by refreshing acidity. Floral, fruity intense aromas, touch of minerality and fresh fruity lingering finish.
Glass £8.25  |  Bottle £40.50
Val de Garrigue, Muscat de Beaumes de Venise, (37.5cl.), Rhône, France, 2014
A bouquet of exotic fruits, lychee, pineapple, notes of honey, on the palate this wine is a full and refreshing mix of peach and white flowers.
Glass £6.50  |  Bottle £30.50