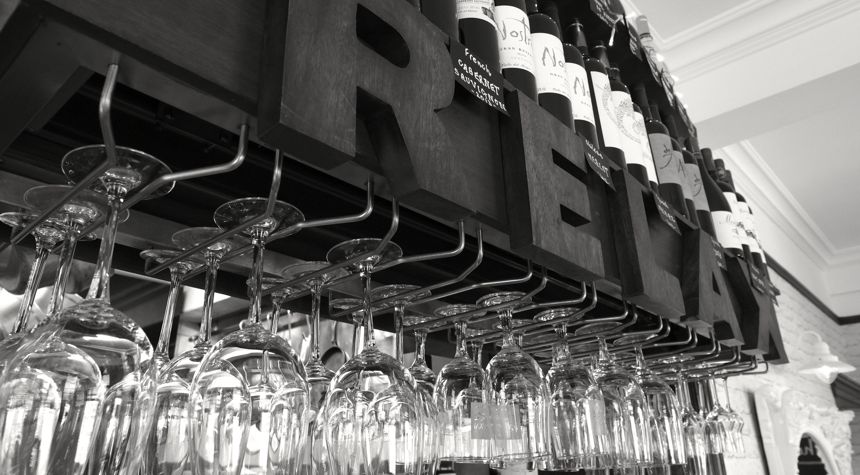 AT THE RIVER HOUSE WE BELIEVE IN USING THE VERY BEST IN SEASONAL SCOTTISH PRODUCE, WHICH MEANS SHOWCASING WHAT WE THINK TO BE THE BEST DRINK FOR THE MENU, WINE.
THE SELECTION HAS BEEN CHOSEN TO FEATURE THE BEST WINES FOR THE JOB, WITH A LARGE SELECTION OF WINES BY THE GLASS, WITH A PARTICULAR FOCUS ON SEAFOOD FRIENDLY WINES SUCH AS: CAVA, SHERRY AND OF COURSE LIGHT FRESH AROMATIC WHITES.
THIS WINE LIST IS AN EVER CHANGING COLLECTION THAT WILL EVOLVE WITH THE SEASONS AND WITH THE MENUS. WITH THIS IN MIND PLEASE LOOK OUT FOR OUR BLACKBOARD WINES, WHICH HAVE BEEN SOURCED FROM LIMITED PARCELS AND SMALL PRODUCERS.
THE CREW ARE HERE TO HELP YOU DISCOVER NEW FAVOURITES, IF YOU FANCY TRYING SOMETHING NEW PLEASE DON'T HESITATE TO ASK FOR OUR ADVICE. OR YOU CAN TRUST IN OUR DEDICATED RESEARCH AND TAKE A PUNT, AS WE LOVE IT ALL.
_________________________
SPARKLING
Bodegas Sumarroca, Catalunya
Why Cava?
It's brilliant with shellfish and seafood, and we think it does as good a job as Champagne at much better price.
Bodegas Sumarroca make excellent Cava, generations of the Sumarroca family have devoted themselves to making it so. Their wines have bags of personality and character. Carlos Sumarroca, the owner, is one of Spain's most important and awarded agriculturists. They practice sustainable farming, harvest at night and only use only free-run juice. Their winery is terraced along the hillside so that all movement of wine is gravity fed. All very technical, but it shows in the quality.
Brut Nature, Gran Reserva, 2011
Fresh, complex aromas that mix with brioche pastry notes. Lively on the palate, with very fine bubbles that perfectly complement the wine's complexity. An elegant, serious finish, long and dry, bringing out the essential flavour of the cava. Brut Nature is the driest expression of Cava.
£27.95 a bottle  |  £6.95 a glass
Brut Rosé, N.V.
An attractive bright pink colour. Inviting aromas of red fruit and strawberries combing with a delicate floral note. Soft and juicy fruit flavours, nice soft bubbles and a delicate finish.
£27.95 a bottle  |  £6.95 a glass

Nuria Claverol, Gran Reserva 2011
Sumarroca's top wine Nuria is a special bottle that is unique to the winery. Intense aromas with strong mineral and toasted notes, give this wine a highly individual character. Full favoured with the right level of complexity; from a highly fruity start to an intriguing fresh and minerally finish.
£46.00 a bottle
_________________________
WHITE
Campo Flores, Blanco Organic, La Mancha, Spain, 2016
An organic offering with bright vibrant, fresh white pear and peach flavours. The palate is fresh, finishing with citrus fruit and a hint of grapefruit. Quite floral and aromatic and definitely natural feeling.
Glass £5.10  |   Bottle £19.95
Alvarez y Diez, Silga Verdejo, DO Rueda, Spain, 2015
Beautiful green-fruit aromas combine with a hint of citrus fruits to give a fresh and vibrant nose. A light and zesty wine with citrus notes and excellent acidity.
Glass £5.75  |  Bottle £22.50
 Pinot Grigio, Casa Defra, Vento, Italy, 2015
A beautiful, light and vibrant white. Zesty, citrus and green apples with a refreshing quality.
Glass £5.95  |  Bottle £23.00
Grenache Blanc, Felicette, Languedoc, France, 2015
Exotic fruits and citrus on the noise, with hint of peach and nectarines. A fresh and well balanced palate, with flowery notes and minerally and exotic flavours.
Bottle £25.25
Mayfly, Sauvignon Blanc, Marlborough, New Zealand, 2016
Youthful and exquisite Sauvignon Blanc with asparagus, ripe peach and exotic fruit notes on the nose. Fresh and deliciously crisp with excellent natural acidity and a long citric and peach aftertaste as well as a rounded body.
Glass £7.15  |  Bottle £27.50
Domaine de Montredon Picpoul de Pinet, Languedoc, France, 2015
Crisp, clean, mineral and simply perfect with shellfish. With a delicate nose of exotic fruit and white flowers lifted with remarkably fresh acidity and a mineral finish.
Glass £ 7.75  |  Bottle £28.75 
Cantine Rallo, Bianco Maggiore, Grillo, DOC Sicilia, Italy, 2014
The historic Cantine Rallo winery is based a stones throw from the beach in Marsala though their hundred hectares of organic vineyards are high up in the hills above Alcamo. This wine is a million miles from the overripe styles made by many of their peers. A heady mix of citrus, grapefruit and tropical fruits, this is well rounded and complex with a long mineral finish.
Bottle £31.00 
Zaccagnini, Verdicchio di Castelli di Jesi Classico Superiore, Marche, Italy, 2015
Elegant aromas with hints of field flowers. Gentle on the palate, with green apple and white peach flavours, there is some intensity on the long finish.
Bottle £32.00 
Thistledown, The Great Escape, Chardonnay, Adelaide Hills, Australia, 2014
Modern cool climate Australian Chardonnay, showing citrus and soft tropical fruit aromas. The palate is focussed with crisp citrus fruit inspired mouth-watering finish.
Bottle £33.00 
Leyenda del Paramo, El Aprendiz, Albarin, Blanco, DO León, Spain, 2015
This winery has been the driving force behind the revival of León´s fresh and aromatic grape variety Albarin Blanco, not to be confused with Albarino. With only 40 hectares of this vine remaining in León, every bottle of this variety is a rare example. Grown in nutrient poor soil, the grapes are intensely concentrated and produce wines of outstanding quality; every vintage has been awarded over 90 points by both Parker and Peñn. This wine has a beautiful, clean and shiny green-yellow colour. There are fresh tropical fruit aromas with spicy hints and floral notes on the nose which introduce a crisp, elegant and long finish. El Aprendiz translates as 'The Apprentice'.
Bottle £32.50 
Domaine Fichet, Mâcon-Villages, Burgundy, France, 2015
Domaine Fichet enjoy a unique terroir, as there is a high content of white limestone in the chalk and clay soils of their vineyards. The microclimate brings extra humidity and morning fog. The wine is a light, fruity Chardonnay, unmistakably in the Burgundian style with a perfect balance of concentration, acidity and minerality. Refreshing and quaffable, the complete package.
Bottle £33.00 
Bouza do Rei, Albariño, Rias Biaxas, Spain, 2015
Lovely aromas of ripe yellow fruit and citrus, with hints of crushed flowers. The palate is crisp, with flavours of lemon zest, fresh lime, stone fruits and notes of flint soil.
Bottle £34.00 
Cave De Ribeauville, Pinot Blanc, Alsace, France, 2015
This has had 6 months on the lees. Winemaker Evelyne Dodelinger is very experienced in vinifying organic wines and she does everything she can to ensure that the wine obtains the maximum terroir expression. Lots of floral aromas with a rich, ripe and fruity fresh palate, there are waxy highlights, and a medium body, finished off with dry and nutty flavours.
Bottle £38.95 
Zephyr Wines, Mark III, Sauvignon Blanc, Marlborough, New Zealand, 2013
WARNING!! This is not your typical Marlborough Sauvignon. The fruit used for this wine has all come from a single block vineyard, which was handpicked and hand selected. The grapes have been whole bunch pressed, straight into 3 very old French Oak Barriques, where it has been left to ferment with wild yeasts (to do its own thing), until the winemakers had a look at the resulting wine in the spring. From there it was all about coaxing out the feral, fennel seed aromas and the wet straw like character. Quite an experience, and very far from the norm.
Bottle £42.00 
Charlène et Laurent Pinson, Chablis, Burgundy, France, 2014
The Pinson Family are one of the longest established families in Chablis with records showing them as having been in Chablis since 1640. The family first started selling its bottles in 1880. In 2004 they created a new and state of the art winery, which you can taste the benefit of in the bottle. A quality wine showing exotic aromas of pineapple and lime. Additional notes of honey and flowers on the palate. Good weight and texture. Hints of grapefruit on the finish.
Bottle £48.00
_________________________
ROSÉ
Edalo, Bodegas Contreras Ruiz, Condado de Huelva, Spain, 2015
Vibrant Ruby colour, red berries on the nose with hints of spice. Surprisingly weighty and fleshy and well-structured despite its youth with excellent balance between freshness and persistence.
Glass £5.95  |  Bottle £24.95

Côtes de Provence Rosé, Cuvée Des Lices, Ravoire et Fils, France, 2015
A fresh and balanced rosé that captures the spirit of the Cote d'Azur with its strawberry and white peach flavours.
Bottle £29.95
_________________________
RED
Campo Flores, Tinto Organic, La Mancha, Spain, 2015
An intense succulent, juicy red wine which is luscious and rugged. Supple ripe strawberry and blackcurrant fruit provides the character, and a warming spicy finish gives personality to this delicious honest red.
Glass £5.10  |  Bottle £19.95 
Calusari, Pinot Noir, Viile Timisului, Romania, 2016
Light, soft and welcoming nose of autumn fruits. Soft smooth & spicy flavours throughout with generous soft red fruit flavours & a lovely elegant finish.
Glass £5.50  |  Bottle £22.50 
El Primero, Graciano & Garnacha, Navarra, Spain, 2014
Black fruits with mocha and spice on the nose. Fresh and bright, with a perfect balance of the acidity of Graciano and the sweetness of the Garnacha.
Bottle £23.00 
Le Casse Noix, Cabernet Sauvignon, Languedoc, France, 2015
Perfumed with fragrant black cherry, cassis and spice like pepper and cinnamon. Full bodied, intense with countless layers of flavour including blackcurrant and cedar.
Glass £6.75  |  Bottle £25.50 
The Mimic Shiraz, Jumilla, Spain, 2014
An explosion of damsons and plums, supported by sweet vanilla from the oak, explodes out of the glass and into your mouth!
Bottle £25.50 
Santuario Malbec, Mendoza, Argentina, 2015
A very alluring nose filled with very ripe blackberries and a hint of blackcurrant jam. The sweet fruit is lush and mouth -filling, ripe and dense with some savoury and spicy notes.
Glass £7.15  |  Bottle £27.50 
DeAlto, Crianza, Rioja, Spain, 2013
Aromatic and intense, lovely aromas of wild red berries, blossom and nutmeg. Fresh, fruity and well balanced, with sensations of raspberries, vanilla and cinnamon.
Glass £7.50  |  Bottle £27.95
 Mabis, Neropasso, Originale Rosso, IGT Veneto, Italy, 2013
A really interesting and super ripe wine. Made with grapes that have been air dried, otherwise known as the "Appassimento" process. This process has given the wine an intense bouquet, which is spicy with hints of cherry, black cherry and plum. The palate is fine and velvety, persistent, with soft tannins at the end. Recipient of a Decanter Gold medal in 2015.
Bottle £ 28.00
The Unforgettable, Grenache/ Shiraz/ Mataro, Langhorne Creek, Australia, 2016
The Unforgettable is a generous blend of 3 varieties, all of whom are long-term friends that know the benefits of teamwork. Working in cahoots, they produce a wine with succulent red berry fruit with hints of spice and chocolate. A clever, friendly wine that is indeed truly unforgettable.
Bottle £ 31.00
Viña Cobos, Felino Malbec, Mendoza, Argentina, 2015
This exquisite Malbec displays aromas of white flowers and black fruits along with notes of white pepper and cloves. Elegant and balanced, delights the palate with hints of liquorice and chocolate as presents broad and smooth with firm tannins that lead to a persistent finish.
Bottle £36.00 
Bodegas Amaren, Ángeles de Amaren, Rioja, Spain, 2010
Highly intense aromas, with a pronounced red fruits and spice set over a delicate background of oak. Tasty and expressive with smooth, fresh tannins and balanced acidity. A long finish, reminiscent of red and black fruit, which is fresh, lively and persistent.
Bottle £50.00 
Tito Zuccardi, Paraje Altamira, Valle de Uco, Mendoza, Argentina, 2014
Named after Sebastián Zuccardi's Grandfather, this wine comes from the La Consulta region, a classic grape blend with some more unusual grape varieties being added. Violet colour with deep blue hues. Black and red fruit aromas such as blackberry, plum, strawberry, cherry with delicate notes of herbs, ginger and black pepper. Silky entry with gentle and juicy tannins, perceiving an aromatic complexity. It presents a long and deep finish.
Bottle £60.00 
Latium Morini, Amarone della Valpolicella, Veneto, Italy, 2010
Showing Intense and ample ripe black fruit, which cassis through to the palate. There are sour cherries, herby and earthy flavours, set around a very rich and pruney, raisined, intense palate. There is a lovely balance on the finish, with loads of richness.
Bottle £69.00
_________________________
ENGLISH WINES
As Scotland hasn't yet been able to make a truly decent or drinkable wine yet, we have decided to compensate for this failure, by stocking a selection of fantastic English wines instead. English vineyards are continuing to make strides on the international scene not to mention making some brilliant quality wines, which pair especially well with seafood.
 ________________
Camel Valley was founded by ex-RAF pilot Bob Lindo and his wife Annie in 1989, in Cornwall. They have enjoyed phenomenal success, and have achieved quite a reputation within 2 decades. 
Pinot Noir Rose, 2015
A light rosé with intense strawberry aromas.
Bottle £35.00 
Atlantic Dry, Cornwall, 2015
A crispy fresh dry white wine with grapefruit and green fruit flavours and a honey finish. 'Ansome!!
Bottle £35.00
________________
Albourne Estate is a new boutique producer of exciting and distinctive single estate wines, located on the edge of the South Downs near Brighton. Their business is family run and all grapes are exclusively grown, sustainably produced and carefully hand blended on site.
Bacchus, 2015
Showing pronounced aromas with loads of citrus, up front grapefruit and lime zest coupled with cut grass and gooseberry aromas. More delicate elderflower and tropical fruit (passion fruit, guava) notes open up on the palate. Super refreshing and crisp on the palate, brilliant alternative to Sauvignon Blanc.
Bottle £39.95 
Cellar Selection, 2015
This wine is unique in their range being exposed to a touch of oak. Using barrel fermented Ortega grapes and a portion of Chardonnay, results in a complex, rounded and expressive wine.
Bottle £39.95 
Truslers Hill, Sparkling Pinot Noir Rosé, 2014
A bright, vibrant rich coloured and 'fruit-forward' rose with delicious fresh English strawberries and cream on the nose and palate. Very dry and crisp.
Bottle £48.00