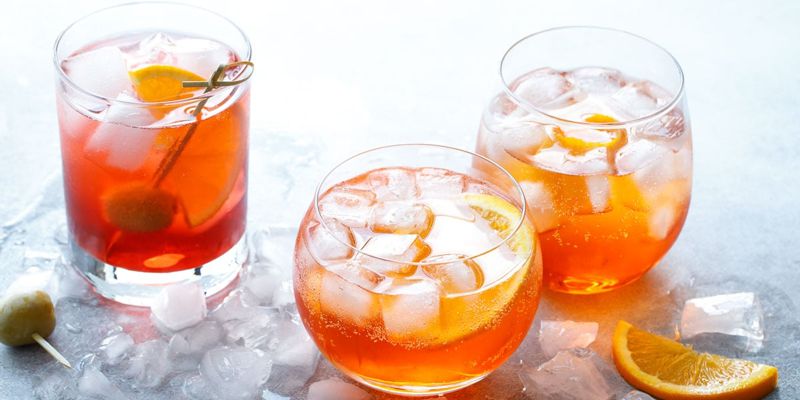 SPRITZ COCKTAILS
Not just a drink, its a way of life – or so the Venetians say!
Venetian Spritz
aperol, prosecco and soda
served over ice with an olive and a slice of orange
Cynar Gin Fizz
Cynar is a cousin of Campari with an artichoke base. Its is like a Pimms but with attitude !
Cynar, Gordon's Sicilian Gin, sugar syrup and prosecco
served over ice with a slice of cucumber
Italicus Spritz
based on an orginal recipe form 1850, well known at the time throughout Italy as
"Apreitivo di Corte" … "The Drink of Kings
Italicus Rosoli di Bergamotto has a citrus nose with hints of rose and lavender
Italicus and prosecco served with a lemon slice and an olive
Lemoncello Spritz
lemoncello, prosecco and a splash of soda
served over ice with a slice of lemon and a sprig of thyme
Cocchi Rosa Americano Spritz
Cocchi Rosa is based on an aromatic red wine from the Asti region of Italy
served with prosecco and ruby grapefruit
Pimms No 1 Spritz
classic pimms with prosecco
All spritz cocktails £8.00

APERITIVO
Negroni
campari, gin and martini rosso
served over ice with an orange slice
Negroni Bianco
Italicus, gin and vermouth
shaken and served over ice with an olive
Americano
sweet vermouth, campari and soda water
served over ice with a slice of orange
All £8.00

PROSECCO COCKTAILS
Drunken Berry
raspberry puree, gin and prosecco
Tintoretto
pomegranate juice and prosecco
Peach Bellini
peach juice and prosecco
Kir Royale
crème de cassis and prosecco
Pear Bellini
pear juice and prosecco
All prosecco cocktails £8.00

COCKTAILS
Old Fashioned
A traditional whisky cocktail with bitters, soda water and a simple orange garnish
Manhattan
An iconic cocktail, created in 1880 at the New York Manhattan Club. A cocktail of bourbon, sweet vermouth and bitters
Dark 'n' Stormy
Krakan Dark Rum, pineapple juice, slash of ginger beer, garnished with a slice of lime
Martini
gin or vodka
2:1 ratio of spirit to dry vermouth, served in a chilled glass with an olive
Bramble
Gin, lemon juice, sugar syrup and a splash of crème de mure served over ice with a fresh bramble and a slice of lemon
Gimlet
A fresh and simple naval cocktail served up in the Royal Navy in the 1800s originally an idea to prevent scurvy!
Navy strength gin, lime cordial and sugar syrup. Shaken and served over ice with a wedge of lime
All cocktails £8.00

MOCKTAILS
Apple and Cranberry Spritz
apple juice, cranberry juice and lemonade
served over ice with a slice of apple, orange and fresh cranberries
Grapefruit Ginger Spritz
grapefruit juice, ginger ale and splash of soda
served over ice with pink grapefruit and mint
Italian Earl
chilled Earl Grey tea, soda and a slice of orange and lemon
All soft cocktails £5.25

We use biodegradable straws and decomposable wood stirrers.