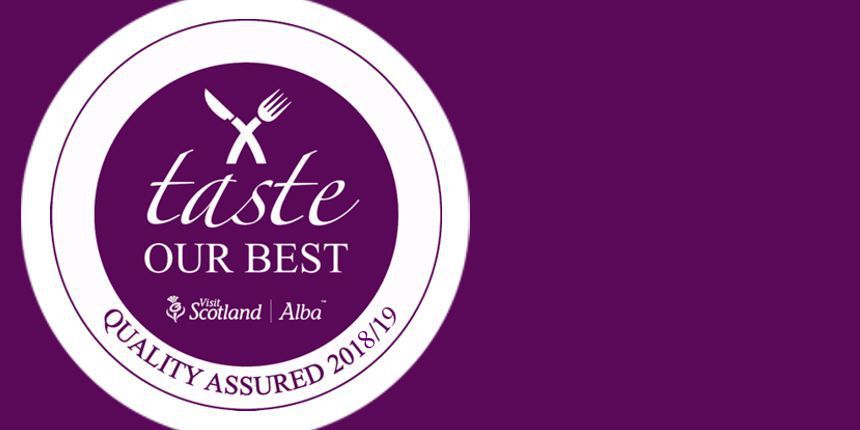 We hope you enjoy your dining experience with us. Here at River House we are dedicated to sourcing and using only the finest seasonal and sustainable produce from around the Highlands and Islands of Scotland.
We are delighted to have achieved Visit Scotland Taste Our Best accreditation as recognition of our commitment to local quality produce.
Below is a list of  our suppliers and a summary of the provenance of the produce they supply to us.
_____________________

Fish and Seafood
Coast and Glen, Inverness
These guys, like all our suppliers are passionate about the product they supply, buying fresh fish from Scrabster and Shetland along with great game from Ardgay.
M&J Seafood
M&J seafood: thirty five years of fresh, salt of the earth fish mongering. Working 24 hrs a day six days a week to bring the daily responsibly sourced local catch to our kitchen.
Duncan Frasers
one of the oldest family businesses in Inverness, they source great fish and game.
Highland fish
A family owned business. Highland Fish is passionate about fresh seafood all sourced locally from sustainable stocks.
_____________________
Butchers
Grants of Speyside .. Formally Grants of Dornoch
5th generation family butcher specialising in local top quality meats whilst producing their own fantastic black pudding and haggis.
Cairn Hill, Organic Beef, Caithness
Family run mixed organic farm with many generations of farming heritage. These guys know their stuff.
Charcuterie
So happy to be able to be supplied by the Great Glen Charcuterie company, this family run business are very dedicated and using only the finest wild Scottish venison they produce some fresh and innovative recipes
_____________________
Fruit and Vegetables
When possible, and in season, we source and use locally grown vegetables, fruits and leaves through a network of growers we have cultivated over the years. Oustide of that we are delighted to work with Swansons, a local fruit and vegetable company of 25 years experience.
_____________________
Bread
We are very lucky to have a great artisan baker  – Capability Brown, who bakes our breads and some of our desserts
_____________________
Wines
Alliance wines
Founded in Scotland and now an international wine company, Alliance does things a little different from the rest – which suits us!
_____________________
Ale
Complementing our food we have local ales from Cromarty Brewing Company, from the Black Isle just outside Inverness
_____________________
Coffee
We have a local coffee roasting company who are fantastic and blend the beans just for us: Inverness Roasting Company
_____________________
Ice Cream
Mieles  is third generation Italian, they make their gelato fresh each day at their shop on Church Street, Inverness – a must visit!
_____________________
Bits & Bobs
We are lucky to have a group of dedicated foragers' that regularly deliver us nature's best, such as wild mushrooms and cockles