---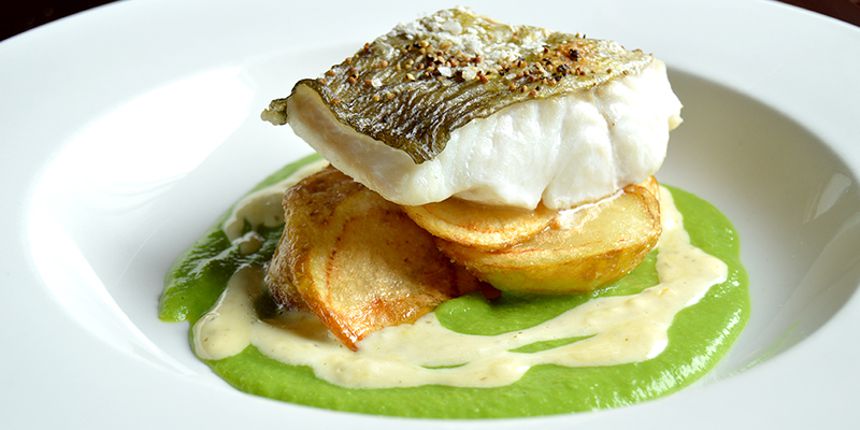 GLASS OF BUBBLY TO START?

Prosecco
£7.95 a glass  |  £34.00 a bottle
Franciacorta
£9.50 a glass  |  £52.00 a bottle
Pierre Mignon Champagne
£10.75 a glass  |  £59.00 a bottle
Roebuck, English Sparkling Wine
£12.75 a glass    £75.00 a bottle

TO NIBBLE
It's great to start a meal with a few nibbles. It gets both the taste buds and the conversation, off to a good start !!


Sicilian Dorri-Nocellara Olives
In a light olive oil
£5.50
Selection of Breads
With x.v.o.o and aged balsamic reduction
£6.50
Anchovies
Served in a light sunflower oil .. surprisingly moreish !
£4.80
Chicken Liver Parfait
With red onion and cranberry chutney and toasted brioche
£8.75

STARTERS

Cullen Skink
Traditional smoked haddock, leek, potato and cream soup
served with crusty bread
£8.75
Crab Thermidor
Orkney crab with pecorino, egg, calvados, mustard and cream.
Topped with crispy panko and grilled until golden brown. Served with crunchy apple, fresh basil and crusty bread
£16.75
Pan seared Shetland Scallops
Served on toasted brioche with a brown shrimp butter
£17.50
Tempura Shetland Monkfish
With crispy slaw tossed in an Asian dressing, fresh coriander and chargrilled lime
£14.50
Burrata
Served on a winter salad with chargrilled focaccia and drizzled with saffron oil
£12.75
Seafood Crumpet
Orkney crab, mussels,squid and baby prawns tossed in a light seafood sauce. On a toasted crumpet with seaweed butter and chargrilled lime
£14.50

OUR OYSTER MENU
Our oysters come form Cape Wrath, around two hours North West of Inverness, at the most westerly point of mainland Scotland.
The growers, Patrick and Lucy Blow, have been farming these beautiful pearls of the sea since 2014. They take great pride in the production, we take great pride in serving them!
Served natural
We shuck and serve in their shell with a lemon wedge.
£3.60 each
Dipping sauce add £1.50 each
* Classic
Shallot and red wine vinaigrette
* Salmoriglio
Lemon juice, garlic, parsley and olive oil
* Kick Ass
Tomato sauce and horseradish cream
* Scandinavian
Capers, dill and lemon juice
* Mignonette
White wine vinegar,sunflower oil, coarse black pepper and finely chopped onion
* Asian
Fish sauce, spring onion, light soy sauce and ginger
* Salmoriglio
Lemon juice, garlic, parsley and olive oil
OYSTER HOUR IS 4.30pm – 6.00pm
£1.50 a shuck for all natural (uncooked) oysters.
Fried Oysters
Beer battered with a local Cromarty ale, served in their shell with tartare sauce
£4.50
Grilled Oysters
* Grilled with parmesan and pancetta
*Grilled with parmesan and pancetta
* Tomato relish – chopped tomatoes and red onion, drizzled with garlic and chilli
* Horseradish, butter, lemon and dill
* Bacon and cranberry jelly
£4.50 each
Rockerfeller
A trio of oysters on the half shell, topped with a rich sauce of butter, parsley, dill and coriander. Topped with breadcrumbs and baked until golden.
£12.50
Selection of Three Oysters
A wee selection ! One natural, one beer battered and one grilled of your choice
£12.50
Oyster Shots
Grey Goose Oyster Shot
One oyster served in a shot glass with Grey Goose Vodka, tomato juice and tabasco
£7.50
Pickle Back
Shot of Talisker 10yr malt followed by an oyster and finally a gherkin …. give it a try !
£9.00
Oyster Cocktails
Pearl of the Sea Martini
Isle of Harris Gin, Noilly Prat Vermouth, samphire and an oyster
£11.00
Oyster Splash
One oyster, happily bobbing around in a glass of franciacorta
£11.00
Black Velvet
Local "Ghost Town"ale topped with prosecco
£11.00
What to drink with your oysters?

Traditionally champagne is the drink to accompany oysters. We would agree. However … all our sparkling wines are a suitable accompaniment.
If wine is your preferred drink then we would recommend Sauvignon Blanc, Grillio, Albarino, Muscadet or Chablis

MUSSEL MENU


Steamed Shetland mussels cooked in one of four styles, served with chunky bread
* MARINIERE – white wine, garlic, shallots and cream
* VENETIAN – white wine, tomato, basil and saffron
* ISLAY – double cream and a good splash of Islay Malt sprinkled with crispy pancetta lardons
* MOUCLADE – Mild curry sauce

£10.60 as a starter £17.60 as a main course
Add a portion of french fries, sweet potato fries or seaweed fries .. £4.95

MAINS
Pan Roasted Fillet of North Sea Cod
Wrapped in Parma ham and served with a parsnip puree, roasted potatoes, tender stem broccoli and a rich red wine jus
£26.80
Prime Scottish Sirloin Steak
Cooked until pink and sliced. With a mushroom and brandy sauce. Tender stem broccoli and french fries
£34.95
River House Fish Stew
Mussels, king prawns, crab, clams and scallops. Tossed in a tomato based sauce, topped with a grilled fillet of Peterhead Haddock and a steamed crevette. Served with crusty bread
£29.95
Sicilian Seafood Pasta
King prawns, scallops, mussels and anchovies tossed with heritage tomatoes and linguine in a saffron olive oil. Finished with crushed pistachios.
£26.95
Steamed Shetland Halibut
Served with an apple, cider and leek cream sauce. Mashed potato and parsnip crisps
£34.50
Shetland Sea Trout
With winter vegetables, white miso broth and pea shoots
£25.50
Pan Seared Fillet Of Sea Bass
Served with king prawns tossed in a garlic, lemon and chilli butter. With samphire and roasted baby potatoes
£ 26.50
Courgette, leek, goats cheese and potato gratin
With a warm cranberry and red onion chutney
£19.95

DESSERT
 
My Better Half's Pavlova
With caramelised banana a baileys cream and chocolate flakes

Festive Affogato
Rum "n" raisin ice cream served with a single espresso and a shot of P.X.
Sticky Toffee Apple Pudding
With vanilla ice cream, warm toffee sauce and a crispy cannoli
Nutella Cheesecake
Topped with honeycomb ice cream and a rossini
All desserts £8.50
(Dairy free ice cream also available on request)

Cheese Slate
A quartet of Scottish cheeses:
Strathdon Blue
Produced from pasteurised cow's milk by a local family here in the Highlands. This cheese is a milder form of Stilton with a tangy taste coming from the blue veins.
Black Crowdie
This cheese was first introduced by the Vikings in the 8th century. Crowdie has a creamy taste and is rolled in oatmeal and cracked black pepper to give it crunch and heat.
Great with a Highland malt.
Morangie Brie
Underneath its bloomy rind, the texture is smooth and silky, while the flavours are sweet, meaty and creamy.
Orkney Cheddar
Produced from pasteurised cows milk. Mellow and creamy, with a sweet nutty flavour
Served with honey, walnuts and oatcakes
£11.75

Coffees and Teas …
Elementos Tea and Coffee are a rain forest alliance certified product. Ethical and natural, there is a blend to suit every taste
Espresso .. Cappuccino .. Americano .. Flat White .. Macchiato .. Caffe Corretto .. Cafe Latte.
Mallow Earl Grey .. Masala Chai .. Dragonwell Green .. Eastern Mint
We also have a large selection of Twinings Fruit Teas
£3.75
Should you have any food allergies or intolerances please do not hesitate in informing us.