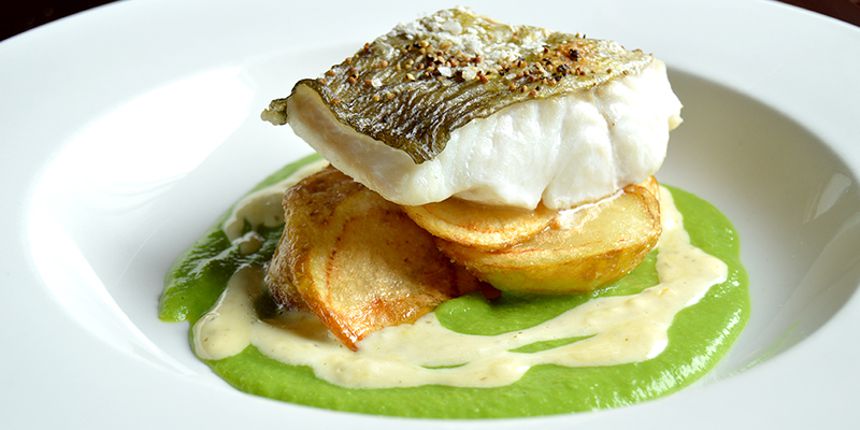 TO NIBBLE
Plate of anchovies
£4.25
Bowl of olives
£4.25
Whitebait
with tartar sauce
£4.50
Extra bowl of bread
£2.50
---
TO START
Pan seared Shetland scallops
served in their shell with parsnip puree, Stornoway black pudding, cider apple sauce and crispy pancetta
£13.50
Gamberi alla busara
prawns cooked in a rich tomato, white wine and garlic sauce, served with crusty bread
£11.25
Cullen skink
traditional smoked haddock, potato and cream soup
£6.50
Warm salad of baby squid, heritage tomatoes, pancetta and rocket
with an oregano dressing
£9.75
Purple fig, speck, mozzarella, mint and pine nut salad
with extra virgin olive oil and aged balsamic
£9.50
Gravadlax
with crispy onions, caviar, crème fraiche and mixed leaf
£10.50
---
OYSTERS MENU
We are delighted to be the first to stock Maorach Beag rock oysters. Cultivated in Little Loch Broom, a sea loch about an hour northwest of Inverness.
They are served on course sea salt, accompanied by a sauce of your choice
(additional sauce £1.50 each)
** caviar and lemon **
** champagne vinegar **
** shallot and red onion with a red wine vinegar**
** tomato 'n' horseradish**
** chilli, lime and Isle of Harris Gin**
3 .. £7.30  |  6 ..£14.50  |  12 ..£26.90
Grey Goose Oyster Shot
Single oyster served in a shot glass with Grey Goose Vodka, tomato juice and tabasco
£5.10
Pickle Back
Shot of Tomatin Malt followed by an oyster and finally a gherkin … it's fun !
£5.95
Pearl of the Sea Martini
Harris Gin, Martini, samphire and an oyster
£7.95
Black Velvet
½ pint of Cromarty Stout and prosecco – a great accompaniment to oysters
£5.50
Our oyster hour
Every Friday 4:30pm – 6:30pm  |  £1.00 a shuck (click for details)
---
MUSSELS MENU
Steamed Shetland mussels cooked in one of five styles and served with chunky bread
** Mariniere – white wine, garlic, shallots and cream **
** Mouclade – mild curry sauce **
** Islay – cream and a good splash of Islay Malt **
** Venetian – tomato, basil and saffron **
** Smoked haddock cream sauce with crispy pancetta **
£9.75 as a starter | £16.95 as a main
Add a portion of french fries £4.50
---
TO FOLLOW
River House fish stew
mussels, king prawns, crab, clams and queenie scallops tossed in a tomato-based sauce topped with grilled fillet of sea bream finished with a West Coast langoustine and served with chunky bread and aioli
£25.75
Pan roasted Pentland firth cod
served on a bed of linguine tossed with a wild mushroom and thyme cream sauce and drizzled with truffle oil
£19.95
Chargrilled 8 oz fillet of Scottish beef
bubble 'n' squeak, crispy onion rings, chargrilled tomato and a bearnaise sauce
£28.95
Steamed Shetland halibut
butternut squash puree, crispy potatoes, steamed broccoli and a brown shrimp butter
£25.75
Grilled fillet of Scrabster hake
served with Iberico chorizo and cannellini beans tossed in a rich tomato and rioja sauce and chargrilled octopus
£21.50
Chargrilled prime 8 oz Scottish rib eye steak
green beans, bordelaise sauce and french fries
£25.75
Scrabster John Dory alla Carlina
A fillet of John Dory on a tomato based sauce with capers, garlic and black pepper – a classic Venetian dish
Served with sautéed potatoes and asparagus
£23.50
Grilled fillet of West Country wild sea bass
with crushed potatoes, samphire and an Orkney crab and king prawn cream sauce
£23.75
The catch…
see blackboard for the catch of the day
Should you have any food allergies or intolerances please do not hesitate in informing us of this.
---
VEGETARIAN OPTIONS
TO START
Tomato and basil soup
£4.50
Goats cheese bruschetta
with a grape, walnut and rocket salad
£7.25
Arancini
wild mushroom risotto balls deep fried and served with a parmesan cream sauce
£6.25
Salad of sun-dried tomato, mozzarella, red onion and rocket
with an oregano dressing and aged balsamic reduction.
£5.95
TO FOLLOW
Griddled Wye Valley asparagus
with sliced charlotte potatoes a soft poached egg and rocket. Finished with pecorino shavings and aioli
Chargrilled vegetables
with Mediterranean cous cous, roasted red pepper sauce and a feta and rocket salad
Penne
tossed with courgette, broccoli, red onion and pesto
All £15.50
---
TO FINISH
Affogato
vanilla ice cream with a single espresso and a shot of amaretto
Dutch apple sponge
with vanilla ice cream and warm toffee sauce
My better half's pavlova
caramelised banana, salted caramel sauce and Chantilly cream
Chocolate pot
served with whipped mascarpone and amaretti cookies
All desserts £6.95
Chef's Roast Coffee
"How do I take my coffee? Seriously – very seriously"
Alfie
We are very fortunate to have a coffee created and blended especially for us by Inverness Coffee Roasting Company: Chef's Roast which can create any style of coffee you wish.
£2.60
Liqueur Coffee
£6.95
---
RIVER HOUSE CHEESE SLATE
Brie, Strathdon Blue, Orkney Smoked Cheddar, Caboc, Crowdie
and Orkney Cheddar accompanied by a selection of crackers, chutney, walnuts, apple and grapes
£9.50
---
DESSERT WINES
TenutaOlim, Pian Centive Mocatel D'Asti Frizzante (Italy)
sweet like honey and peaches.
Pedro Ximenez (Spain)
Dark and rich, great with chocolate or on its own!

£7.85  (50ml glass)
---
PORT
Delaforce LBV
Delaforce 10 year old Tawny Port
£5.40 (50ml glass)
---
DESSERT COCKTAILS
No room for a dessert? Or even if you do.
Why not try one of our fantastic dessert cocktails as well?
SPRITZ 'n' PROSECCO COCKTAILS
SPRITZ
Not just a drink, its a way of life – or so the Venetians say!
Venetian spritz
aperol, prosecco and soda served over ice with an olive and a slice of orange
Negroni
campari, gin and martini rosso served over ice with an orange slice
Americano
sweet vermouth, campari and soda water served over ice with a slice of orange
Lemoncello Spritz
lemoncello, prosecco and a splash of soda served over ice with a slice of lemon and a sprig of thyme
Winter Spritz
aperol, prosecco and ginger ale served over ice with rosemary and orange
Cranberry Aperol Spritz
aperol, prosecco and cranberry juice served over ice with fresh cranberries, orange and rosemary
All spritz cocktails £8.00
PROSECCO COCKTAILS
Frosted Drunken Berry
raspberry puree, gin and prosecco
Tintoretto
pomegranate juice and prosecco
Peach Bellini
peach juice and prosecco
Kir Royale
crème de cassis and prosecco
Pear Bellini
pear juice and prosecco
All prosecco cocktails £8.00
SAN MARCO
A perfect aperitif
two spritz or prosecco cocktail and a bowl of olives and olive grissini
£19.50
SOFT COCKTAILS
Apple and Cranberry Spritz
apple juice, cranberry juice and sprite served over ice with a slice of apple, orange and fresh cranberries
Grapefruit Ginger Spritz
grapefruit juice, ginger ale and splash of soda served over ice with pink grapefruit and mint
Italian Earl
chilled Earl Grey tea, soda and a slice of orange and lemon
All soft cocktails £6.95
DESSERT COCKTAILS
After many late nights working tirelessly to create, we hope you enjoy !
Brandy Alexander
brandy, cream and crème de cacao
Espressotini
better than just a coffee ..Grey Goose Vodka, Tia Maria and a shot of espresso served with a layer of whipped cream and a light dusting of coffee
Sgroppino
a shot of vodka over lemon sorbet, topped with prosecco and dressed with lemon and mint
Cranachan Martini
shot of Tomatin Malt, Chambord and Grenadine, shaken with ice and cream, topped with toasted oatmeal and a fresh raspberry
All dessert cocktails £7.95
Or if a cocktail is not for you, try a bottle of:
Brewed Awakening 7%
Artisan coffee-infused stout from the Cromarty Brewery
£4.75 (500 ml)
We use biodegradable straws and decomposable wood stirrers for our cocktails