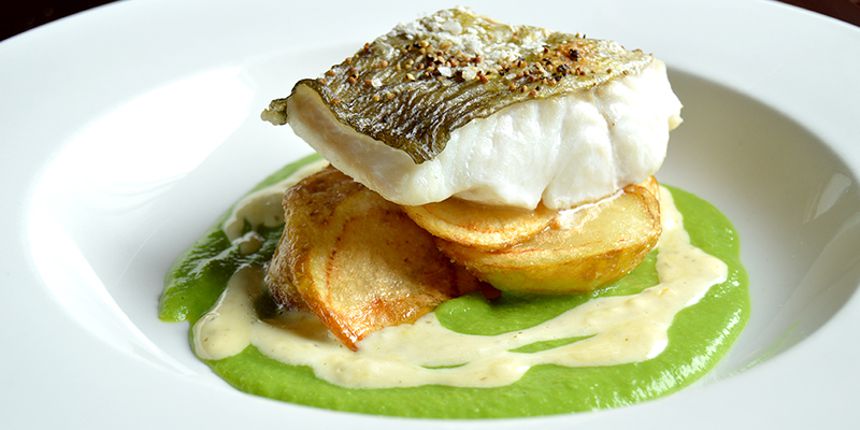 TO NIBBLE
Bowl of olives  |  Plate of anchovies
£4.25 each
Whitebait
with garlic mayonnaise
£4.50
_________________________
TO START
Buffalo mozzarella, fig, rocket and Parma ham salad
with a pesto dressing, finished with an aged balsamic reduction
£8.25
Pan seared Shetland scallops
served in their shell with borlotti beans and pancetta
£11.65
King prawns
tossed in a garlic and chilli butter, served on Moroccan cous cous,with rocket and chargrilled lime
£9.60
Charcuterie slate
venison and pork salami, mustard seed venison salami, smoked venison, duck pate, pickles and char-grilled sour dough bread
£9.50
Soup of the moment
£4.10
Seafood Cocktail
lobster, crab, crayfish and cockles with avocado, fennel and micro herb finished with seafood sauce served with melba toast and char-grilled lime
£10.50
Salmon gravadlax
with beetroot, feta, roasted cherry tomato and chargrilled orange
£8.95
_________________________
OYSTERS MENU
Our oysters are Pacific oysters and come from the fresh cold waters surrounding the Isle of Bute on the west coast of Scotland.  They are served on sea salt, accompanied by one of our three dipping sauces:
~ Shallot and red onion with red wine vinegar ~
~ Wasabi ~
~ Sauce mignonette ~
3 …£6.45     |     6…£12.70     |     12…£21.90
Grey Goose oyster shot!!
Single oyster served in a shot glass with Grey Goose vodka, tomato juice and Tabasco
£4.25
Our oyster hour
Every Friday 5:30pm – 6:30pm  |  £1.00 a shuck (click for details)
_________________________
MUSSELS MENU
Steamed Shetland mussels cooked in one of four styles, served with artisan bread:
Mariniere : white wine, garlic, shallots and cream
Mouclade: white wine, shallots, cream and a mild madras curry
Islay: cream and a good splash of Islay malt
Thai: cream, sweet chili, coconut and lemongrass
£9.25 as a starter  |  £16.95 as a main
Add a portion of French Fries for £3.95
_________________________
TO FOLLOW
Grilled fillet of sea bass
served on crushed potatoes with asparagus and finished with a shellfish bisque
£19.95
Pan roasted collops of monkfish
with truffle pomme, samphire and a red wine jus
£19.95
Grilled fillet of Scrabster hake
with pan roasted octopus, chorizo, potato and caper berries
£18.95
Pan seared Shetland cod
with wild mushrooms, pancetta and peas, tossed with sage and garlic and served with silky mash
£19.50
Steamed Shetland halibut
with parsnip puree, sweet potato crisps, tender stem broccoli and a brown shrimp butter
£22.25
River House Fish Stew
a tomato, basil, chilli, garlic and white wine stew, with mussels, clams, king prawns, crab, Peterhead haddock and west coast langoustine: served with aioli and artisan bread
£21.95 
Char-grilled prime 28 day matured Scottish rib eye steak
served with green beans, French fries and bordelaise sauce
£22.50
Should you have any food allergies or intolerances please do not hesitate in informing us of this.
________________
TO FINISH
Ecclefechan tart
served with clotted cream and red currants
Natale (Christmas) affogato
Christmas pudding flavoured gelato from Miele's with a shot of Vecchio Romano and espresso
Clementine posset
with orange sorbet and dark chocolate shards
Black Forest sundae
chunks of rich chocolate brownie, amaretto and cherry gelato and cherry compote, topped with whipped cream and milk chocolate curls
All desserts £6.95
Chef's roast coffee
exclusively roasted and ground for us by the Inverness Coffee Roasting Company, with home made truffle
£2.50
Liquor Coffee
£6.50
________________
RIVER HOUSE CHEESE SLATE
Cornish Brie, Strathdon Blue, Orkney Smoked, Gaboc, Crowdie and Orkney Cheddar
accompanied by walnuts, grapes and honey. With oatcakes from Caithness.
For one £8.75                     For two £15.00
________________
DESSERT WINES

Beerenauslese (Austria)

Tokaji Late Harvest (Hungary)
This is honey in a glass
Pedro Ximenez (Spain)
Dark and rich, great with chocolate – or on its own!

£7.65  (50ml glass)
________________
PORT
Delaforce LBV
Delaforce 10 year old Tawny Port
Delaforce fine white port
£5.35 (50ml glass)
 ________________
DESSERT COCKTAILS
No room for a pudding? Then try one of these:
Espressotini
better than just a coffee: Grey Goose Vodka, Tia Maria  and a shot of espresso served with a layer of whipped cream and a dusting of coffee. Add a scoop of vanilla gelato to form an affogato espressotini
Cranachan Martini
shot of Tomatin malt whisky, Chambord raspberry liqueur and Grenadine, shaken with ice and cream and topped with toasted oatmeal
El Patron
shot of PX, shot of Spanish brandy and a shot of espresso topped with a layer of whipped cream and a dusting of coco
£7.50 each
or if a cocktail is not for you, try a bottle of:
Brewed Awakening 7%
Artisan coffee-infused stout from the Cromarty Brewery
£4.75 (500 ml)