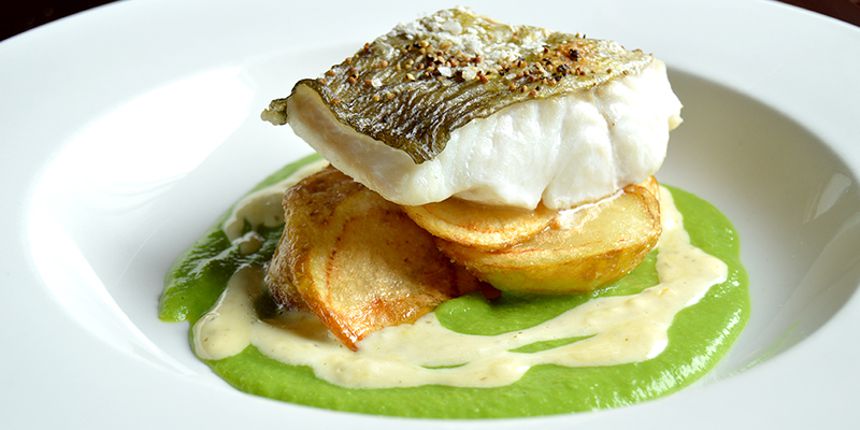 TO NIBBLE
Bowl of olives  |  Plate of anchovies
£4.25 each
Whitebait
with garlic mayonnaise
£4.50
Extra bowl of bread
£2.50
---
TO START
Orkney crab and crayfish salad
with bottarga mayonnaise and fresh lemon
£10.95
Crispy Gurnard goujons
with a fennel, red onion and pepper salad, garlic mayonnaise
£9.70
Pan seared Shetland scallops
served in their shell with toasted brioche and a brown shrimp and hazelnut butter
£11.95
Cullen skink
£5.95
Grilled Scottish mackerel fillet
served on chargrilled ciabatta, with dressed rocket and sardine ketchup and fresh lime
£8.50
Niçoise salad
with chargrilled yellow fin tuna
£9.50
Steamed asparagus
with Serrano ham, manchego shavings and piquant sauce
£8.50
Bruschetta of hot smoked salmon pâté from South Uist
with spring onion and rocket, finished with a caper and dill dressing and a wedge of fresh lemon
£7.95
---
OYSTERS MENU
Our oysters are Pacific oysters and sourced solely from around the coast of Scotland. They are served on sea salt, accompanied by a choice of sauces::
~ Caviar and lemon ~
~ Shallot and red onion with red wine vinegar ~
~ Wasabi ~
~ Chili, lime and Rock Rose Gin ~
3 …£7.20     |     6…£14.40     |     12…£26.80
Grey Goose oyster shot!!
Single oyster served in a shot glass with Grey Goose vodka, tomato juice and Tabasco
£4.60
Pearl of the Sea Martini
Harris Gin, Martini, samphire and an oyster
£7.95
Black Velvet
½ pint of Cromarty Stout and Cava – a great accompaniment to oysters
£5.50
Our oyster hour
Every Friday 5:30pm – 6:30pm  |  £1.00 a shuck (click for details)
---
MUSSELS MENU
Steamed Isle of Lewis mussels cooked in one of our four styles, and served with our artisan bread:
Mariniere : white wine, garlic, shallots and cream
Perry : pear cider, cream and sliced pears
Islay : cream and a good splash of Islay malt
Thai: : sweet chilli, lemongrass, coconut and cream
£9.25 as a starter  |  £16.95 as a main
Add a portion of French Fries for £3.95
---
TO FOLLOW
Chargrilled 28 day matured Scottish rib eye steak
with a caper, rosemary and heritage tomato beurre noisette and French fries
£24.50
Grilled Shetland halibut
with a comfit of summer greens and king prawns tossed in a light shellfish bisque with crispy potato gnocchi topped with caviar
£24.50
Chargrilled prime Scottish fillet steak
with fried potatoes, water cress and bordelaise sauce
£28.95
Grilled Scrabster hake (alla carlina)
served with a tomato and caper sauce, fried potatoes and asparagus
£18.95
Steamed Shetland turbot
simply steamed and served on a nage of broad beans, garden peas, asparagus, clams and Parma ham
£24.25
Grilled fillet of sea bass
with chargrilled tomato, artichokes, olives and courgette. Set on a roasted red pepper sauce and finished with salsa verdi crowned with a west coast langoustine
£21.50
Pan roasted Shetland sea trout
with sweet potato crisps, steamed broccoli and a garden pea puree. Finished with a brown shrimp butter
£18.95
Pan roasted Pentland Firth cod
with pork belly, broccoli, sautéed new potatoes and a lemon and thyme butter sauce
£19.95
The Catch
see large blackboard for the daily catch.
Should you have any food allergies or intolerances please do not hesitate in informing us of this.
---
TO FINISH
Vanilla panna cotta
with chargrilled peaches and a bellini coulis
Orange posset
with dark chocolate shards 
Scottish strawberry, Cava and mascarpone trifle
Toasted almond tart
with raspberry ripple gelato and fresh raspberries
All desserts £6.95
Chef's roast coffee
exclusively roasted and ground for us by the Inverness Coffee Roasting Company, with home made tablet
£2.50
Liqueur Coffee
£6.75
---
RIVER HOUSE CHEESE SLATE
Cornish Brie, Strathdon Blue, Orkney Smoked, Gaboc, Crowdie and Orkney Cheddar
accompanied by walnuts, grapes and honey. With oatcakes from Caithness.
For one £8.75                     For two £15.00
---
DESSERT WINES
Tokaji Late Harvest (Hungary)
This is honey in a glass
Pedro Ximenez (Spain)
Dark and rich, great with chocolate – or on its own!

£7.65  (50ml glass)
---
PORT
Delaforce LBV
Delaforce 10 year old Tawny Port
Delaforce fine white port
£5.35 (50ml glass)
---
DESSERT COCKTAILS
No room for a pudding? Then try one of these:
Espressotini
better than just a coffee: Grey Goose Vodka, Tia Maria  and a shot of espresso served with a layer of whipped cream and a dusting of coffee.
Cranachan Martini
shot of Tomatin malt whisky, Chambord raspberry liqueur and Grenadine, shaken with ice and cream and topped with toasted oatmeal and a fresh raspberry
Sgroppino
a shot of vodka over lemon sorbet, topped up with Cava and dressed with lemon and fresh mint
£7.50 each
or if a cocktail is not for you, try a bottle of:
Brewed Awakening 7%
Artisan coffee-infused stout from the Cromarty Brewery
£4.75 (500 ml)