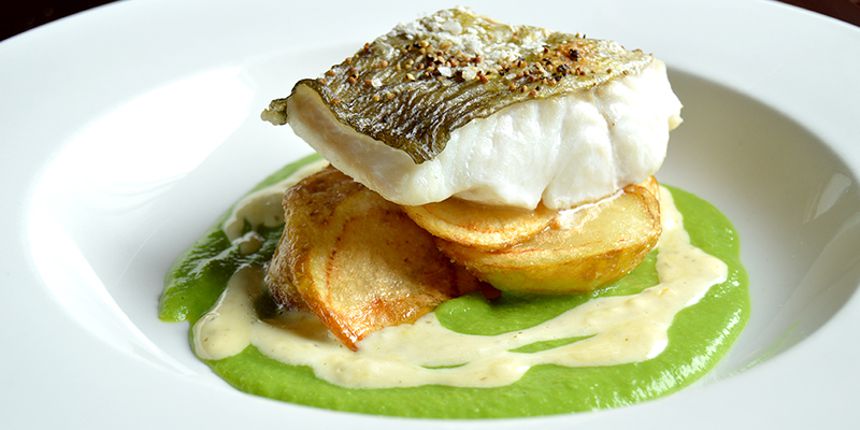 APPETISERS 'n' SHARING PLATES
Ideal as a starter for one, or  a few to share
Fritto Misto
crispy battered seafood with aioli and a wedge of lemon
£10.55
Bread 'n' Olives
selection of breads served with marinated Provence olives and an olive oil and balsamic dip
£5.30
Anchovies
fantastic for a nibble…
£4.10
Cullen Skink
traditional smoked haddock, leek, potato and cream soup
£6.50
Crab Thermidor
delightful mix of Orkney crab with Pecorino, egg, Calvados, mustard and cream. Topped with crispy panko and grilled until golden brown. Served with crunchy apple and fresh basil
£13.95
Pan seared Shetland Scallops
served in their shell with a sweet potato and butternut squash mash and a sage and ham hock butter
£14.85
Goats Cheese on Toast
goats cheese on toasted brioche. Served on an apple, walnut and beetroot salad with a honey mustard dressing
£8.25
Mackerel Bruschetta
mackerel fillet served with pepperonata on chargrilled sour dough with garlic aioli
£8.25
Piccolo Cod and Baby Prawn Fish Cakes
with watercress, lemon wedge and a sardine ketchup
£9.25
Seafood Crostini Slate
a trio of crostini as follows:
Highland smoked salmon with dill cream cheese and caviar
Speck, king prawn, chilli and honey
Shetland crab in a light seafood sauce with pink grapefruit
£9.95

OYSTER MENU
Our oysters are sourced by our local fishmonger from around the coast of Scotland. If you wish to know where yours are from just ask…
Served natural
We shuck and serve in their shell on coarse sea salt with a fresh lemon wedge and dipping sauce of your choice.
Additional dipping sauce £1.50 each

£3.00 each
CAVIAR
SHALLOT 'n' RED WINE VINAIGRETTE
CHILLI, LIME AND ISLE OF HARRIS GIN
MIGNONETTE – white wine, sunflower oil, coarse black pepper and finely chopped spring onion
SALMORIGLIO – lemon juice, olive oil, garlic and oregano
KICKASS – tomato sauce mixed with horseradish
** OUR OYSTER HOUR IS NOW DAILY 4.30pm – 6.00pm **
£1.00 a shuck for all natural oysters.
Cooked
We shuck and shell our oysters and cook them in a beer batter, made from Cromarty Ale. Replacing them in their shell and serving with tartar sauce
or
Grilled with parmesan and pancetta
£3.20 each
Grey Goose Oyster Shot
single oyster served in a shot glass with Grey Goose Vodka, tomato juice and tabasco
£5.50
Pickle Back
shot of Talisker 10yr malt followed by an oyster and finally a gherkin – give it a try!
£5.95
Pearl of the Sea Martini
Isle of Harris Gin, Noilly Prat Vermouth, samphire and an oyster
£8.00
Black Velvet
½ pint of Cromarty "Ghost Town" stout and prosecco – a great accompaniment to oysters
£5.50

MUSSEL MENU
Steamed Shetland mussels cooked in one of four styles, served with chunky bread
MARINIERE – white wine, garlic, shallots and cream
VENETIAN – white wine, tomato, basil and saffron
ISLAY – cream and a good splash of Islay Malt sprinkled with crispy pancetta lardons
MOULADE – cream, white wine, onions and a mild curry powder
£9.95 as a starter  |  £16.95 as a main course
Add a portion of french fries, seaweed fries or sweet potato fries £4.50

MAIN COURSE
River House Fish Stew
mussels, king prawns, crab, clams and scallops tossed in a tomato based sauce, topped with a grilled fillet of sea bass and a steamed crevette .Served with crusty bread
£26.95
Pan roasted loin of North Sea Cod
with tempura tender stem broccoli, crushed potatoes and a bottarga butter
£22.50
Chargrilled Prime Scottish Fillet Steak
served with a truffle and parmesan butter, grilled tomato, hand cut chunky chips and watercress
£29.50
Grilled fillet of Sea Bream
with olive oil and sea salt roasted potatoes, green beans and a romesco sauce
£19.95
Hake "Sicilian style"
grilled Scrabster hake served on a bed of datterini tomato, olives, artichoke, basil and clams. Finished with a drizzle of salmorgrillo dressing
£21.50
Steamed Shetland Halibut
with a mussel and chervil butter, mustard mash, baby leeks and a crispy pancetta snap
£26.95
Wild Mushroom Gnocchi
crispy potato gnocchi, with wild mushrooms and spinach, tossed in a cream sauce. Drizzled with truffle oil
£17.50
Collops of Scottish Monkfish
with squid and cannellini beans, tossed in a rich tomato and rioja sauce. With garlic aioli, topped with crispy kale
£22.75
Linguine with Mussels, king prawns and Chorizo
with a lemon, garlic and parsley gremolata
£19.75
Should you have any food allergies or intolerances please do not hesitate in informing us of this.

DESSERTS
Passito di Pantelleria and Panettone
a sweet, elegant Sicilian dessert wine served with a good slice of panettone – ideal for dipping!
£9.95
My better half's pavlova
with whipped cream, pear and warm salted caramel sauce
Hazelnut Affogato
vanilla ice cream topped with chopped nuts served with a single espresso and a shot of frangelico
(dairy free ice cream also available on request)
Orange Polenta Cake
with whipped ricotta, candied orange and dark chocolate flakes
Dutch Apple Cake
with a ball of vanilla ice cream and toffee sauce
All desserts £6.95

CHEESE SLATE
A quartet of fine Scottish cheeses
Morangie Brie, Strathdon Blue, Campbletown Applewood Smoked Cheddar and Orkney Cheddar
served with honey, walnuts and oatcakes
£9.80

COFFEE & TEA
Elementos, Vinto Coffee and Teas are an ethically sourced rainforest alliance certified product
Espresso | Cappuccino | Americano | Flat White | Macchiato | Caffe Corretto | Caffe Latte.
Mallow Earl Grey | Marsala Chai | Drangonwell Green | Eastern Mint.
All £2.65