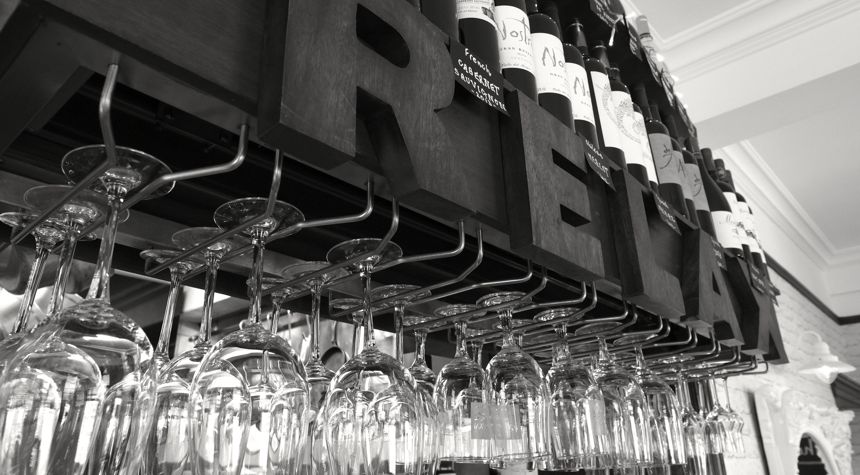 At RIVER HOUSE we believe in using the very best in seasonal Scottish produce, which means showcasing what we think to be the best drink for the menu: wine.
The selection has been chosen to feature the best wines for the job, with a large selection of wines by the glass, with a particular focus on seafood friendly wines.
This wine list is an ever-changing collection that will evolve with the seasons and with the menus.
The crew are here to help you discover new favourites. If you fancy trying something new please don't hesitate to ask for our advice. Or you can trust in our dedicated research and take a punt, as we love it all.

SPARKLING WINES
Prosecco Superiore, Giavi, Conegliano Valdobbiadene, DOCG, 2020
Brilliant pale yellow with greenish hues. Very fine and persistent perlage. Aromas of apple, pear and white flowers that complement notes of honey and chamomile. On the palate it is refreshing, balanced and smooth. Harvested by hand, the quality of the resulting wine is high, full of purity and freshness of fruit, making this very much a boutique wine.
125ml £7.95
Bottle £34.00

Marchese Antinori, Franciacorta Cuvée Royale, NV, Italy
Superb traditional method sparkling from the Antinori stable, crisp apple fruit with lemony finesse, has acquired subtle richness and perfect tiny bubbles from extended time on the lees. A blend of 78% Chardonnay, 12% Pinot Noir and 10% Pinot Blanc.
125ml £9.50
Bottle £52.00

Grande Reserve, Premier Cru, Pierre Mignon, Champagne, NV, France
A crisp, well balanced champagne with citrus hints on the nose overlaid with touches of brioche. The palate is fresh, clean and lively with a creamy mousse and long finish.
125ml £10.75
Bottle £59.00

Classic Cuvée, Roebuck Estate, West Sussex, England, 2014
Citrus fruit and baked apples are layered with a toasty richness and hint of truffle. A truly lovely example of modern English Sparkling from traditional grapes and methods..

Bottle £75.00


Blanc de Blanc, Drapier, Champagne, France, n/v
The House of Champagne Drappier has always cultivated its originality, and this Blanc de Blanc is a salute to this passion and conviction for uniqueness. Chardonnay holds 95% of the Cuvée Blanc Vrai (True White), a synonym for Pinot Blanc. The aromatic bouquet opens with fresh stone fruit aromas that evoke sweet peach and William pear, outlined by elegant floral scents. Chalky minerality of the terroir expresses itself through its frank, lively attack finished with generous flavours of tasty, indulgent biscuit notes. A Blanc de Blancs of rare finesse.
Bottle £85.00

WHITES
Catarratto, Palazzo del Mare, Sicily, 2019
An abundance of tropical peach and pineapple aromas leap out of the glass. These flavours continue onto the palate joined by lovely ripe pear and lots of acidity to balance the ripe fruit.
175ml £5.50
250ml £7.50
Bottle £21.50

Chardonnay, Montsable, IGP Pays d'Oc, France, 2020


A great match for fish. Seductive scents of blossom and cinnamon spice250ml £7.50with a mix of pears, peach and honey. A very classy Chardonnay!



175ml £5.80
250ml £7.85
Bottle £23.50

Viognier, Mont Rocher, Vieilles Vignes, France, 2020
A haunting honeysuckle and apricot aroma. Rich, almost unctuous palate that is somehow still dry, tangy and refreshing.
175ml £6.25
250ml £8.85
Bottle £26.25

Grillo, Bianco Maggiore, Cantine Rallo, Sicily, 2020
Full of rich structure and coastal personality. A heady mix of citrus, grapefruit and tropical fruits, this is well rounded and complex with a long mineral finish. Perfect with Mediterranean seafood stews.
175ml £6.85
250ml £9.75
Bottle £28.75

Pinot Gris, Stoney Range, Sherwood Estate, New Zealand, 2020
The palate is light bodied, smooth, very refreshing with a lingering sweet finish. Extended lees contact gives this wine aromatic spice, flavours of poached pear and honeysuckle on the finish.
175ml £7.15
250ml £9.90
Bottle £29.50

Fiano, Produttori di Manduria, Zin, Puglia, Italy, 2020
A fully-loaded dry white wine packed with intense sweet apple, pear perfume, peaches and soft orange florals. Perfect for fish and shellfish but also very versatile.
175ml £7.25
250ml £9.95
Bottle £29.75

Albariño, Bouza do Rei Lagar de Bouza, Spain, 2021
Aromas of ripe citrus fruit crushed flowers and underlying minerality give way to a fresh, crisp palate of lemon zest, fresh lime, stone fruits and notes of flint soil. Spain's most famous white wine, especially pairing with seafood.
175ml £8.25
250ml £10.85
Bottle £31.50

Sauvignon Blanc, Iona, Elgin, South Africa, 2020
Beautiful fruit purity of limes and ripe gooseberry, with tropical, floral and fine herbal notes, ruby grapefruit and white pear drop on the finish. This is a cool climate Sauvignon Blanc – vibrant, mineral, elegant, balanced and delicate, with a long, layered and complex finish.
175ml £8.40
250ml £11.20
Bottle £32.50

Alice Verdeca, Produttori Di Manduria, Italy, 2020
The nose is bursting with aromatic white flowers partnered with juicy pineapple notes. Though supported by sweet pear and citrus freshness, Verdecca finishes nice and dry on the palate.
Bottle £34.50

Beaujolais Blanc, Domaine de la Couvette, Beaujolais, France, 2020
Lovely green and yellow hues, with a subtle yet complex citrus profile and hints of pear. This follows with nuances of herb and jasmine, whilst the palate is a refreshing mouth full of pears, green apples and mineral notes. Excellent with fish, shellfish and especially prawns!

Bottle £35.00

Gavi DOCG, Tenuta Olim Bauda, Piemonte, Italy, 2020
From northest Italy we find the beautifully simple and elegant Gavi. The Cortese grape produces wine enveloped with floral and citrus fruit on the palate with hints of underlying minerality.

Bottle £36.00

'Source Blanche', Château Ka, Bekaa Valley, Lebanon, 2020
Finding its identity somewhere between the Old and New World, this unusual blend from a tremendously dedicated Lebanese winemaker creates an exceptionally satisfying wine. The Muscat and Viognier grapes offer a bouquet of fresh white florals, the Sauvignon Blanc that citrusy tartness, and just a dash of Chardonnay for great depth of character. A summertime hero.

Bottle £38.00
Sancerre, Moulin les Lys, Domaine Reverdy Ducroux, Loire, France, 2020
A world classic from clay and limestone soils in the village of Verdigny, one of the best sites in the Loire Valley. Laurent is the 14th generation to head the Domaine,and works in meticulous sustainable practices. While the nose is bright with herbs and citrus, but gentle with hints of stone fruit, the finish is backed up by a robust body and mineral structure.
Bottle £43.50
Aligoté, Bouzeron, 'Les Trois', Chanzy, Burgundy, France, 2019
Bouzeron, a village within the Côte Chalonnaise was awarded AOP status in 1998, thus bringing the Aligoté varietal well-deserved recognition. Not as full-bodied or robust as its Chardonnay counterpart, this wine offers balanced minerality with citrus and apple fruits but a hint of white chocolate creaminess that beautifully complements seafood dishes.

Bottle £47.00

Chablis, Domaine Michaut Freres, France, 2020
Bernard Michaut provides us with this stunning, fresh and vibrant Chablis. The winery is located in Biene close to Chablis, built on the classic kimmeridgian soil of the region. These wines show great typicity, steely acidity, plenty of fruit with that unmistakable note of flinty "terroir".

Bottle £47.00

Agrumes & Caetera, Domaine Capmartin, South West France, 2019
A new addition to our list from a region with wines increasingly recognized for their quality. A true pioneer of AOP Pacherenc du Vic Bilh, this blend of local varietals Gros Manseng and Petit Courbu is layered with citrus, pineapple and crisp apple aromas supported by some spicy minerality, with that lingering hint of honeycomb to entice you for another sip. A rare gem that will enhance any dining experience.

Bottle £49.00

Domaine Pillot, Chassagne-Montrachet, Burgundy, France, 2020
With a superb collection of vineyards and a modern winemaking facility on the edge of the village, Laurent Pillot's wines are of an excellent quality. This Chassagne-Montrachet is sourced from some of the best sites in Burgundy's Côte de Beaune and promises great finesse on the nose. The palate is warming and sultry, concentrated and balanced with white fruit and peach carried by discreet oak notes. The underlying minerality shines through an amazing length on the finish.

Bottle £75.00

ROSÉ
Grenache Rosé, Mont Rocher, Vieilles Vignes, France, 2020
This is a dry pale pink rosé with soft red berry fruits, strawberry and raspberry flavours, supported by deliciously fresh acidity.
175ml £6.35
250ml £8.55
Bottle £25.50

Domaine La Grande Bauquière, B By La Grande Bauquière, Côtes de Provence Rosé, France, 2021
A lovely salmon pink colour, the red berries on the nose lead into a very appealing, 'more-ish' wine that is rich in fruit yet delicately balanced by a lovely lemon freshness on the finish. Classic Provence.
Bottle £32.00
Magnum £62.00

REDS
Palazzo del Mare Rosso, Sicily, Italy, 2020
Bags of ripe, plummy fruit, hints of spice and liquorice, red and cherry fruits, this wine is deliciously supple and juicy. The perfect partner for a variety of dishes.
175ml £5.50
250ml £7.50
Bottle £21.50

Pinot Noir,Calusari,ViileTimisului, Romania, 2020
Not easy to find good value Pinot Noir these days! This one comes from an old vineyard in the Romanian mountains and offers all that you might be looking for -strawberry and cherry fruit, spiciness with an elegant finish. Seafood friendly.
175ml £5.90
250ml £7.95
Bottle £23.75

Zweigelt, Funkstille, Niederösterreich, Austria, 2020
The Austrians really know how to make food-friendly wines, and this juicy, slightly peppery number is just the ticket. A modern showcase of red cherry, plum and vibrant berry fruit combine in this joyful, bright and incredibly juicy red.
175ml £6.45
250ml £8.65
Bottle £25.75

Tempranillo, Bodegas Manzanos,Rioja, Spain, 2020
Rioja as it should be – very much medium bodied with wild berry fruit, a bit of spice from oak. There is a reason why this is one of the most popular red wine styles.
175ml £7.10
250ml £9.50
Bottle £27.50

Malbec, Manos Negras, Mendoza, Argentina, 2020
This is the "big boy" – the full on, rich, spicy, fruity wine from the beautiful slopes under the Andes. High-altitude vineyards help to maintain fresh acidity, and a little more elegance than most Malbecs out there, but with that undeniable dark fruits layered with fine oak. As always, great with steak.
175ml £7.80
250ml £9.95
Bottle £29.75

Gamay, Domaine de la Couvette, Beaujolais, France, 2020
The less-serious cousin of Pinot Noir, but oh so delicious. From a beautiful region south of Burgundy, Gamay is world-famous as a delightful pairing with lighter meat dishes or charcute, or just to refresh you on a sunny afternoon. Bright, candied-fruit and juicy cranberry aromas give way to a range of fruit flavours dominated by ripe red berries on the palate.
Bottle £35.00

Barbera d'Asti, 'La Villa', Tenuta Olim Bauda, Piemonte, Italy, 2020
Deep and bright ruby-red colour with a rich concentration of surprisingly bold but approachable lavendar aromas. Just the right amount of tannins to support the tart cherry and berry fruit flavours..
Bottle £37.00

DESSERT
Moscato d'Asti, Pian Centive, Tenuta Olim Bauda , DOCG, Italy, 2018


This semi-sparkling wine is made from 100% Moscato Bianco grapes. Golden apples, pineapple and honey aromas with a palate which is fresh and fragrant.
75ml £8.25
37.5cl Bottle £23.00

Passito di Pantelleria DOP, Rallo Azienda Agricola, Sicily, Italy, 2015
Sweet, elegant and well-balanced with notes of orange peel, apricots, dried figs and honey with impressive acidity..
125ml £15.75
50cl Bottle £59.00

Pedro Ximinez, Colosia, Bodegas Gutierrez, Spain, n/v
Naturally sweet and dark in color with aromas of caramelised raisins and molasses, with an intense finish. The perfect partner to vanilla ice cream, caramel and chocolate desserts!

125ml £9.55
37.5cl Bottle £27.95

Lions de Suduiraut, Château de Suduiraut, Bordeaux, France, 2015
Honeyed nuts and a peach liqueur aroma, moving to sweet vanilla and rich, passion fruit syrup. An Old World classic, this is a totally versatile wine; perfect as an aperitif, perhaps with some olives, whilst still having the depth and gravitas to partner with richer puddings and blue cheese.

125ml £16.45
37.5cl Bottle £49.00